Traders' screens are a sea of green in Europe today. Stock indexes have been rising on the news that the average purchasing managers' index for manufacturing in the euro zone set a 26-month high (pdf) in August. The reading of 51.4 was the second consecutive month above 50, the cut-off point between growth and contraction. This confirms the region's nascent recovery, seen in a small expansion of second-quarter GDP and a return to growth in industrial production in June, and hints at further growth—however modest—in the quarters to come.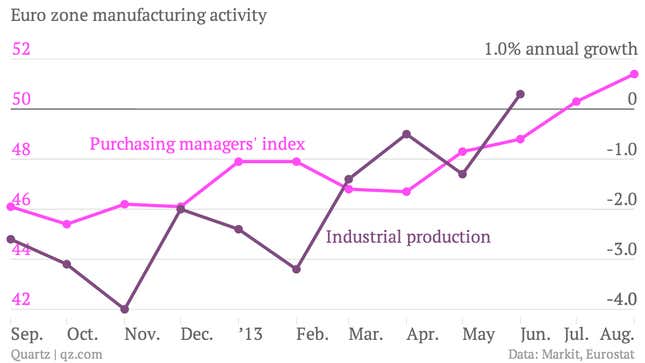 The recovery is broad-based. Manufacturing activity set two-year highs in the Netherlands, Germany, Italy and Spain. Purchasing managers in Greece were as bullish as they have been in nearly four years, although in Greece's case that merely means the contraction is less severe (the Greek index was 48.7 in August).
Spain's results are particularly encouraging. Its August reading of 51.1 was the first month of expansion in more than two years. Purchasing managers reported strong export orders, reinforcing upbeat trade data released in August. The construction industry's collapse at home means that Spain's recovery relies heavily on its ability to sell more goods abroad.
Two things in the latest data are still worrying, though. Job cuts continue: employment fell more steeply in August than in July. Manufacturing employment has been falling for 19 consecutive months, according to the survey's respondents.
France is another exception to the otherwise positive trend. At 49.7, its PMI was unchanged from the previous month. The index has wallowed below the neutral 50 mark for a year and half. That suggests the unexpected jump in France's second-quarter GDP may soon fade.