Last week, Quartz reported on an unlikely crowdfunding campaign: The browser extension AdBlock, which does exactly what its name says, is raising money so it can fund online ads that tell people how to use it to block online ads. As of this writing, the campaign has surpassed its second goal of $50,000, which AdBlock says will allow it to not only post online ads but also get space on a billboard in Times Square. We estimated that AdBlock is probably doing rather well for itself through donations alone and noted that the more people use AdBlock the more it could harm sites that rely on advertising revenue to stay afloat.
A recent report (pdf) from PageFair, a service that websites can use to measure the extent of ad-blocking, sheds some light on just how afflicted those sites are.  Based on data from 220 clients, PageFair found an average ad-blocking rate of 22.7%. It estimates that one of its "typical" clients, with a 25% block rate, loses about $500,000 a year due to ad blockers. Based on data from a small sample of clients, PageFair says ad blocking is growing at 43% every year.
Perhaps unsurprisingly, websites where ads are most often blocked tend to cater to the technologically savvy: Gaming sites had their ads blocked by one of every three visitors, technology sites by one of every four. For travel websites, by contrast, the figure was only 5% (chart below):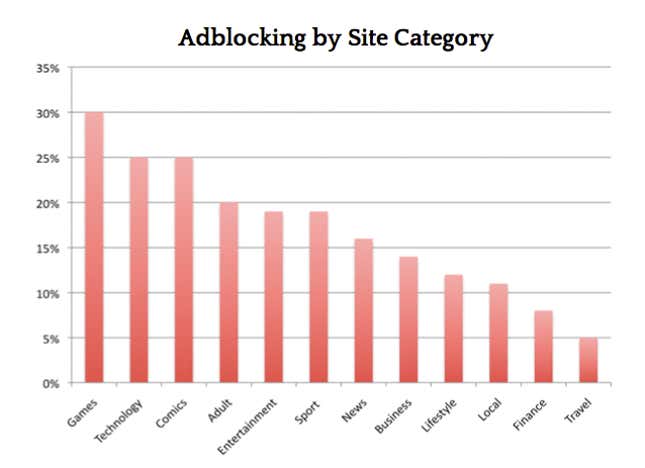 There's a similar variation depending on which browsers people are using. Mozilla Firefox, a favorite of techies, heads up the list; over 35% of those who use it have installed an ad blocker. Google's Chrome browser is not very far behind with over 30%. Only 1% of Internet Explorer users block ads.
AdBlock claims 80 million total downloads and 20 million regular users per week. It's not the most widely-used anti-ad service, though; that's AdBlock Plus, which is unrelated, and claims to be the most popular browser extension in the world, with over 200 million downloads since 2011.
All this is pretty grim news for online publishers and service providers that rely on ads. But they are hardly innocent victims. As online ad rates decline, publishers often use annoying, invasive ads that auto-play video or audio, bounce about, or cover the entire screen and follow readers around. If they want their users to stop using ad blockers, perhaps websites need to stop subjecting them to a barrage of color and sound at every step.