Roared on by a home crowd, South Korea's Yun Sung-bin made history today. In an event that until now had been dominated by Western athletes, he became the first Asian to win gold in skeleton at the Winter Olympics.
In fact, he became the first athlete outside of Europe or North America to medal at all in the sliding events—skeleton, luge, bobsleigh—at the Olympics.
What's more, he won with a comfortable margin, finishing 1.63 seconds ahead of the silver medalist Nikita Tregubov from Russia. Nobody has won by such a wide margin in an Olympic sliding event in more than four decades. Britain's Dom Parsons took the bronze in the daredevil event, which involves barreling head first and belly down along an icy chute.
The 23-year-old Yun earned the nickname "Iron Man" for his helmet, reminiscent of the comic book character's, and red racing suit.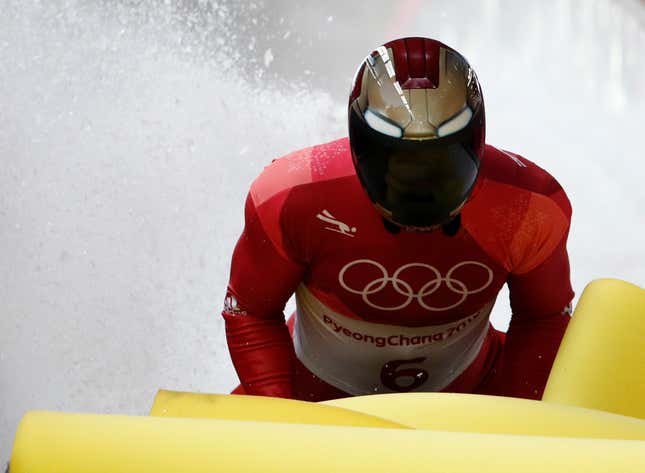 By the fourth and final heat today (Feb. 16), it was clear he would win a gold medal barring any major mistakes. Instead of choking under pressure, he recorded the fastest run, zipping past spectators at over 125 km/h (78 mph). After he finished, he removed his helmet and bowed on his knees.
He attracted a strong following of fans, who flocked to watch him compete. Because it's a national holiday in South Korea, Yun had wondered how much support he would receive. "But so many people came to watch, and I know many more watched on TV," he later told reporters. "That support really helped push me to win the gold medal."