Russian trolls used Paypal to sow chaos in the 2016 US election, according to special counsel Robert Mueller's indictment today of 13 Russian nationals.
The indictment accuses members of the St Petersburg "troll factory" Internet Research Agency of paying for online ads using Paypal. The ads were used to spread inflammatory statements about the presidential candidates and social issues.
They created and verified their accounts with the digital payment company by stealing real Americans' social security numbers and dates of birth, according to the filing: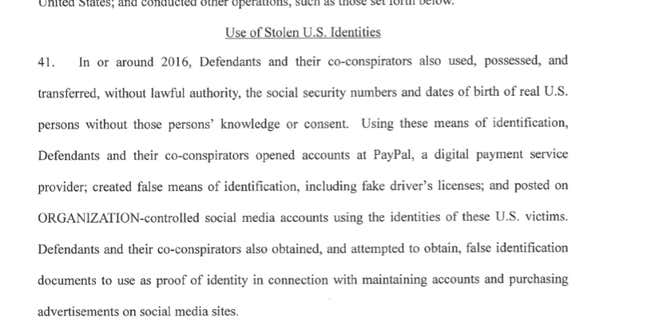 This would in part explain why Facebook and Twitter failed to realize they were being paid for advertising by Russians.
US citizen Richard Pinedo's guilty plea to Mueller gives insight into how foreign citizens similarly tricked an unnamed company ("Company 1") into letting them use its services. It charges Pinedo with selling US citizens' bank account numbers to various foreign individuals, which they then used to verify their separate accounts at "Company 1."
The unspecified "Company 1" then asked them to verify that these were their real bank accounts by depositing a tiny amount of money into them, which Pinedo checked for the foreign users. This allowed them "to circumvent verification processes" by that company. Pinedo's website has been taken down, but it reportedly advertised help in getting access to Paypal, Amazon, and Ebay.
Paypal declined to comment on whether it is the company in the Pinedo plea and did not say whether it is re-examining its anti-money laundering or due diligence practices. It confirmed in a statement that it cooperated with law enforcement on Mueller's case.
Russians seeking to influence the US 2016 elections also paid for online advertisements by registering Russian bank accounts and credit card numbers in the names of US citizens, the report says.