It's not often that the foreign acquisition of a country's most famous company is a boon to its economy, but that may prove to be the case in Microsoft's purchase of Finland's Nokia.
That's the same Nokia that began as a paper mill in 1865 and, as a mobile phone pioneer, almost single-handedly dragged Finland out of its crippling 1990s financial crisis. But according to a research report from the Finnish think tank ETLA, the days when Nokia dominated its economy are past: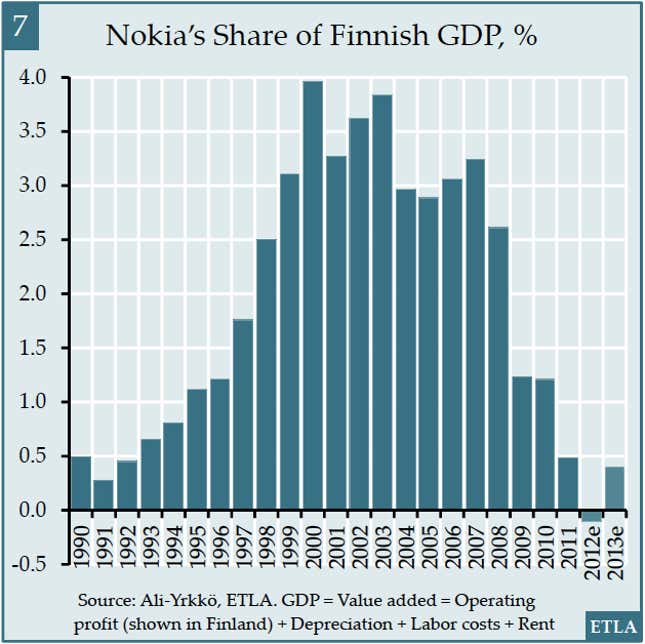 In fact, far from being a strong point, the company was actually a slight drag on Finland's economy last year (although that's not really surprising if you've read former CEO Stephen Elop's 2011 memo describing the company's Symbian operating system as a burning oil platform). While the country bounced back fairly quickly after the 2008 financial crisis, last year its economy shrunk 0.8%. Its central bank expects the recession, driven by falling exports of paper and electronics, to continue this year at about the same rate of decline.
Microsoft's $7.2 billion purchase price, on the other hand, represents 2.6% of Finland's GDP, which the company may return to investors or use to invest in its remaining (and still potentially lucrative) business lines. That's not a bad bit of stimulus at a time of economic stagnation.
But even if Finland doesn't see most of that, at least in the near term, little about the transaction should hurt the country's economy outright. Microsoft expects to keep existing Nokia staffers working in the country (only 0.2% of total employment after the company's Finnish head count was cut in half since the 2008 crisis) and is planning to invest $250 million in a new data center there.
And the legacy of Nokia is much broader than the company itself: It helped transform Finland's economy into a country driven by information technology. Even as employment in hardware manufacturing has fallen in recent years, the explosion in software and IT services employment has more than replaced the job losses—take, for example, game designers Rovio, the maker of Angry Birds, and Supercell. Microsoft's plans to turn the country into a research hub will only amplify this trend.
None of that guarantees that Finland's economy will turn around. It faces the same demographic challenges as other wealthy countries, and is still working to adapt its industry to a world where its main export markets, including the US and the UK, are only slowly recovering from the global recession. But jettisoning a troubled hardware manufacturing business and doubling-down on software is a strategy that can build on Finland's strength: its skilled workers.