While snow is an indispensable element for the Winter Olympics, not every host city has the luck to stage mountain events at slopes perfectly covered by the natural white stuff.
Enter Snow Making Inc. (SMI), a Michigan-based company which has been responsible for installing snow-making machines at seven Winter Olympics including the Pyeongchang games. Ian Honey, a project manager with SMI, told USA Today recently that "at least 98%" of the snow used at the Jeongseon Alpine Center, which hosts the speed events for this Olympics, is man-made.
It turns out that Pyeongchang lacks natural snowfall to host a Winter Olympics without technology's help. The organizing committee told Quartz that it spent $6 million to deploy snow cannons, which compress cooled water to produce artificial snow, for the ski and snowboard events. Artificial snow, though harmful to the environment, is preferred by professional athletes because it's firmer, consistent and more durable.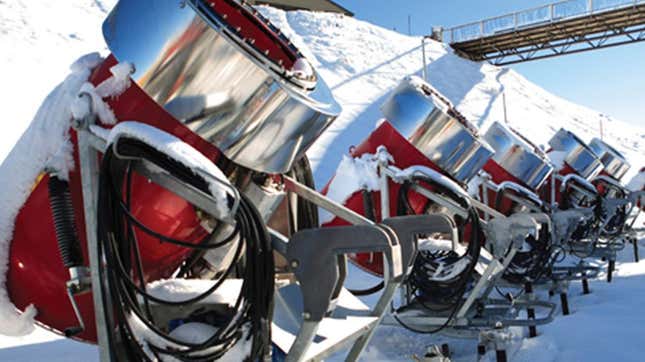 SMI says on its website (pdf) that the company has mounted 100 snow cannons on towers and carriages at the Jeongseon venue, and deployed an additional 10 mobile snow guns for portable use. The whole system (fully automatic by the way) has a water storage capacity of 128,000 cubic meters or 33.6 million gallons, which is enough water to fill 51 Olympic-size swimming pools. In a Facebook post, the company adds that it has supplied a total of more than 160 snow-making machines for two venues for Pyeongchang, making it the largest snowmaking provider at the games.
Founded in the 1970s, SMI has also worked at the Winter Olympics in 1984, 1988, 1998, 2002, 2010 and 2014, a company representative told local newspaper.
SMI didn't reply for a request for comment for this story.