Luxury investing is gaining a somewhat geeky profile, with gearheads, coin collectors and philatelists gaining ground on urbane, wine-sipping art enthusiasts.The best luxury investment over the past year is classic cars, according to property consultancy Knight Frank. In its latest assessment of various luxury asset classes, the index for cars gained nearly 30%, outperforming all other categories. The most expensive car ever sold at auction—a grand prix-winning 1954 Mercedes-Benz (pictured above)—fetched £19.6 million ($31 million) in July.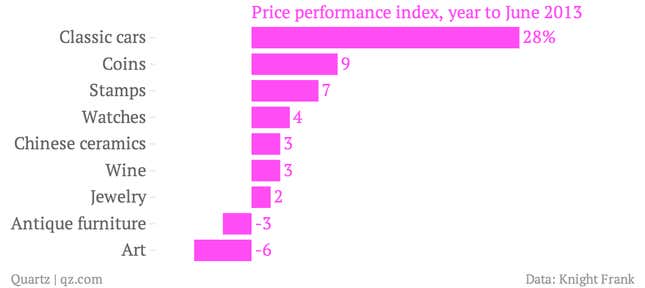 Overall, Knight Frank's index of luxury goods rose by 7% in the year to June, matching the increase in central London property but falling short of the 12% gain in the FTSE 100 share index. Gold, meanwhile, lost nearly a quarter of its value over this period.
For those with money to spare, coins and stamps also performed well over the past year, beating the overall luxury index. Fine art was the worst performer, falling by 6% in value, with furniture, jewelry and wine also lagging.
Knight Frank created the luxury performance index earlier this year to accompany its annual World Wealth Report, which tracks investment trends among the ultra-rich. According to the report, so-called "passion investments" like cars and art comprise only 4% of wealthy investors' portfolios. So think twice before you empty your bank account for a down payment on a Bugatti.