Artist and performer Liv Wynter spent most of her teenage years skipping school to hang out in art galleries. The 25-year-old often went to the Tate, Britain's leading cultural institution, where she was free to lose herself in experimental films and the latest exhibitions."It's really easy to hide at the Tate because it's so big and there's lots of school trips," she says, adding she was able to quietly blend in.
So when Wynter was offered the job of artist in residence at Tate Britain and Tate Modern's education program for 2017-18, it was a dream come true. "I was so excited and I was so proud," she tells Quartz. But expectations didn't live up to reality.
"I was feeling weird because I was walking around these works and seeing Carl Andre's work and I was just starting to feel, 'Hey, did you forgot something here when you took this job?'" Wynter says. Andre is an American minimalist artist who was accused and later acquitted of killing his wife, artist Ana Mendieta.
That wasn't the only issue. In January, The Guardian broke the news that UK art dealer Anthony d'Offay, one of the most powerful men in contemporary art, is facing allegations of sexual harassment and inappropriate behavior from three women. D'Offay said in a statement to The Guardian that he was "appalled" by the allegations and categorically denied them. In 2008, d'Offay was widely applauded for giving his £125 million ($173 million) personal collection of postwar works to the Tate for only £26 million. This donation helped establish the "Artist Room" project—a touring collection of over 1,600 works of modern and contemporary art. Last month, Tate announced it would be suspending its contact with d'Offay.
While Wynter underwent an internal "crisis," Tate director Maria Balshaw was asked to comment on sexual harassment and violence, and the ongoing investigation against d'Offay. In an interview with The Times (paywall), Balshaw said the Tate had given a "measured response" to d'Offay's investigation. She went on to say, "But I personally have never suffered any such issues. Then, I wouldn't. I was raised to be a confident woman who, when I encountered harassment, would say, 'Please don't'… or something rather more direct." Balshaw then talked of her time working as a waitress in the 1980s, adding: "Then, when men had got a bit drunk, they thought it entirely appropriate to put their hand up your skirt." She said she would respond by tipping a tray full of drinks on them.
For Wynter, that was "a nail in the coffin moment." She says: "I felt personally undermined that someone who I work for could say those things." Adding, "There was just such a callousness about her comments."
Balshaw was criticized for her remarks. She would quickly clarify her comments on Instagram, saying:
"I am sorry if this has been misunderstood. It is absolutely not my intention to say that women are in any way to blame. To be clear, it is the perpetrators who are responsible for their behaviour and not the women who are subjected to it."
Wynter attended a meeting with Balshaw and other Tate staff members last week. "She didn't really apologize," Wynter claims. She says Balshaw insisted her comments were taken out of context. Wynter specifically challenged Balshaw on the idea that confidence had anything to do with sexual harassment, saying, "You have no understanding what strength is, if you think strength is the ability to not be abused, you're so unbelievably ignorant."
It was soon after that meeting that Wynter realized something had to change. She handed in her resignation to the Tate's education program on yesterday afternoon (March 7), the eve of International Women's Day. In it, she wrote:
I hope that this is the desperate rupture needed to create and facilitate radical and urgent change. I hope that in five years I can walk through the walls of the Tate and find myself humbled and inspired, and able to work with young people in the space once more. As it stands, I walk through the buildings and I see works made by perpetrators that have no signs of being removed, whole rooms of works where I feel personally disgusted and full of rage. I cannot reconcile this within myself, and so for now, even at the huge financial risk I put myself in as a working class queer woman, I must resign.
A slow reckoning
The #MeToo movement, in which women have come forward in overwhelming numbers to speak out against sexual harassment and assault, has not left the art world unscathed. Last November, Canadian art collector François Odermatt was accused of rape by one woman and sexual harassment by others. In February, Los Angeles-based art dealer Aaron Bondaroff resigned amid claims of sexual misconduct.
This reckoning hasn't been limited to curators. Chuck Close was also accused of sexual misconduct. In response to these allegations, National Gallery of Art in Washington cancelled the artist's forthcoming exhibition. The Pennsylvania Academy of the Fine Arts in October took the opposite approach with an exhibition of Close photography—it decided to create an adjacent gallery that "will catalyze conversations about power, gender, visibility, and voice." Meanwhile, both New York's Met museum and MoMA decided to continue displaying Close's work.
Without some museums and galleries openly acknowledging the social implications of displaying works of those accused or convicted of sexual misconduct, artists like Emma Sulkowicz—best known for her "mattress protest"—have had to take up the mantle in raising awareness. She posed in front of Close's work dressed only in underwear and self-applied asterisks, demonstrating against the New York institutions' decision to display art by accused abusers.
But the question over what should be done with art created by those accused or convicted of sexual misconduct, doesn't just apply to living artists, it is also extends to historical works.
Last week, the Museum of Fine Arts, Boston seemed to toe the line. It opened an exhibition of Austrian painter Egon Schiele's work (1890–1918) with new wall labels addressing the charges against him. Schiele was arrested for the kidnapping and statutory rape of a 13-year-old girl. He was acquitted but was eventually found guilty of "immorality" because the girl had seen some of his nude works in his studio.
Genevieve Berrick, an artist and co-organizer of US-based group Art Against Assault, says questions on what museums and galleries should do about the work of accused abusers are wrong. "There's altogether too much focus in these conversations on what abusers deserve. How do we not talk about those they target?" she asks. "As a culture, we need to ask for more. We need to push back hard enough against abuse to make it so utterly unacceptable that these exhibiting spaces risk more for not talking about the violations that abusers have perpetrated."
Things become even less clear-cut when discussing what to do with the work owned or donated by curators. The Artist Room at Tate would clearly not exist had it not been for d'Offay's contribution—but what should be done with his work now that he's under investigation?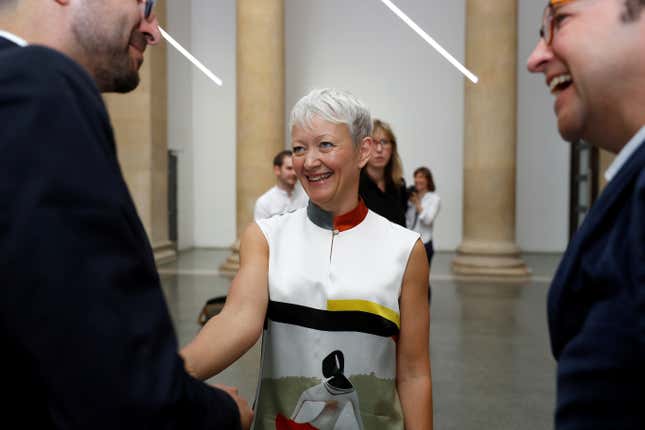 A curator at a separate London museum, who would only speak on the condition of anonymity, said: "In the case of associates, like patrons or curators, it is difficult. I think it's not fair to expect the gallery to contextualize either way until the case is closed. If the exhibition is in progress, or a gift has been given, and the case is open, then I think the association has happened already. If, for example, an exhibition is in the planning stage, or a gift has not be finalized, I think it is right for the gallery to step away from the partnership until the case is handled." She adds that though curators would like to think differently, "an exhibition is the product of lots of different people across the gallery. I don't think galleries should partner with known abusers." That said, galleries aren't always in the position to respond quickly and efficiently, the source says, "If the issue is acknowledged, and the right thing is done moving forwards, I think that is the best we can hope for."
Artists also speak of huge imbalances of power in their industry. Wynter notes in her resignation letter that 13% of the Tate's workforce identify as Black and Minority Ethnic (BAME), 9% identify as lesbian, gay, or bisexual, every single director is white, and only 4% of the entire workforce identify as disabled. She adds that the highest pay band has 3% BAME, the second has 12% and the third has 7%. "What that means is that company structures, and buying power is all in the hands of people who aren't truly invested in the experiences of identities they don't inhabit—such as women. And that's a situation ripe for the worst kinds of abuses of power," Berrick says.
Travis Alabanza, performance artist and writer who was last year's artist in residence at the Tate workshop program, told Quartz: "I think what we are seeing is a continual trend of institutions claiming and talking a talk, but failing to structurally and institutionally walk a walk. Diversity and inclusion go beyond buzz words, beyond having people appear briefly, it's structural changes to how things work, who is paid what, how people are treated—and what happens when things fuck up. Ultimately, it's about a care that we are not seeing."
Berrick describes Balshaw's comments as "a depressingly common response." She adds, "What people seem to overlook is that the very charm that has won them over is a key part of a deliberate tactic of disguise that abusers maintain in order to isolate and create a culture of disbelief around those they have targeted, should they speak out—rather than disproving the harassment or violence, it's actually a key part of the truth."
Since Wynter went public with her resignation, several artists expressed support for her on Twitter. Sister Magazine, a bi-annual feminist publication, tweeted they would be cancelling the launch of their new issue at the Tate Modern.
A spokesperson for Sister Magazine told Quartz: "We will be postponing our work with the Tate for the foreseeable future. Following Liv's resignation, I would like the Tate to not issue another apology, but to start changing their set up from within. Who they employ and how they treat their staff speaks much louder than the work they put on display, or events they organize."
Pockets of radicalism
Wynter largely worked with young students at the Tate Britain and Tate Modern. She ran workshops to make the art displayed more accessible and was keen to foster an environment where they felt they could engage with the work. She would take children to see the work of British sculpture Henry Moore and get them get them all to lay in the floor and emulate these sculptures with their bodies; they would watch Derek Jarman's last film Blue in the dark, whilst laying on bean bags; and hand out football scarves and red cards, and ask them to wave their scarves if they love a piece, or their red cards if they don't. She told the children they could be as loud as they want. "Sometimes the art's not the thing that matters, it's the possibility of getting into the building that is really powerful," she says.
Wynter was keen to stress there are departments at the Tate doing "amazing" and "transformative" work—namely, the education department that she worked at and "Late at Tate"—a specially curated late openings featuring music, live performances, and workshops of young and radical artists. But this wasn't enough in the end. Wynter notes in her resignation "I feel stagnant in the gaps of the giant ever grinding cogs of the Tate—what power do I have as an individual in this space? If the work I can do outside these concrete walls is inherently more transformative, what am I doing inside them?"
In 2015, Wynter co-organized protests under the name Where Is Ana Mendieta? The action protested against the exclusion of Mendieta's work, and the decision by Tate to display the art of Andre (The Tate owns both the work of Andre and Mendieta). "Body tracks" was one of Mendieta's most famous piece of work; in it she dipped her forearms into ox blood and would hold them up against a wall, her hands the shape of a Y, and then would slowly kneel into prayer position. The performance would take place and there would be two bright red tracks. In a shout out to Mendieta's work, the protestors stood in circle and held hands, their forearms painted red. They covered Andre's work with a bedsheet that read: Carl Andre killed Ana Mendieta. "We were there for half an hour before anyone noticed we weren't supposed to be there. And we try to run away and run into a locked room and had to turn around and ran back out the other way," she says.
The Tate soon hired Wynter after she led this action. It all seemed part of The Tate moving into a new era, especially since the institution announced its first female head—Balshaw—last year. As another sign that The Tate could be transitioning into a more self-aware and progressive institution, Balshaw was also someone who had spoken out about the need for greater diversity and inclusion. But when she did so last month, she also managed to spark outrage. During a speech, Balshaw said she was glad to see a photograph of a group of young men at the at The Whitworth's contemporary collection watching a video installation by the artist Steve McQueen and eating "fried chicken." A transcript of her speech notes:
And so I was delighted a couple of months ago to receive a photograph sent by the curator at The Whitworth of a group of young men sitting in the room where Ashes was being shown, with their fried chicken lunch, talking about the piece as they were watching it. I can only say from my experience of being at The Whitworth for 11 years that they would not have been in that gallery without that work.
Balshaw was accused of being racially insensitive and during the public meeting with staff, was asked to respond to these comments. Wynter says Balshaw largely pled ignorance.
Last week, it came to light that during a "Inclusive Management Training" session, some staff members were asked whether they believe their morals align with those their bosses, according to a source close to The Tate. A few said no, directly referencing Balshaw's comments on sexual harassment. Those who brought up Balshaw's comments were told by HR that they were not allowed to discuss this or bring it up during the training.
Quartz contacted the Tate for comment. A spokesperson from the Tate said:
"The HR consultant leading the session had not read the comments herself and nor had other staff in the room, so did not feel she was in a position to lead a longer conversation about it. She acknowledged the opinions raised and gave those views equal space in the discussion. An open forum to discuss the topic fully was then provided the following week."
A spokesperson for Tate pointed Quartz to the public Instagram post in which Balshaw initially apologized for her comments on sexual harassment. The spokesperson added: "She [Balshaw] also apologized during an open discussion with staff and restated her commitment to inclusivity and diversity, which staff support." The Tate spokesperson also provided the following comment from Balshaw:
"Throughout my career I have been dedicated to addressing issues of gender, race and equality and I apologize if my recent comments have offended anyone. When I became Director of Tate, I set out my vision to make this the most culturally inclusive museum organization in the world, and I am truly committed to that vision. I have spoken publicly about my values on many occasions over the years and I will continue to argue for equality and inclusion at every opportunity."
For Wynter, these incidents highlighted an institutional rot at the Tate. She felt she had no other option but to resign. She says she's at peace with the fact that she worked with the Tate, nor does she want other artists to boycott the Tate. That said, in her resignation letter, Wynter calls for Balshaw's to donate time, money, and space to groups like IMKAAN, a UK-based black feminist organization that addresses violence against women and girls, and Sisters Uncut, the direct action feminist group that fights cuts to refuges and women shelters.
Wynter isn't the first to resign over how an institution responded to the reckoning on sexual harassment and assault. While she acknowledges everyone isn't in a position to quit, she firmly believes resigning is an inherently feminist issue. She points to Sara Ahmed, a professor who quit from her university post last year in protest over the alleged sexual harassment of students by staff. In her resignation letter, Ahmed notes:
 Resigning in feminist protest—and making public that you are resigning in feminist protest – does get attention. It can be a sharp sound; it can sound like a sudden break.  In my case, that break was supported by many of my colleagues; but not by all. One colleague describes my action as "rash," a word used to imply an action that is too quick as well as careless. Snapping is often a matter of timing. A snap can feel like a moment.
It's within this vein that Wynter resigns. Wynter, who describes herself as a queer working class artist, doesn't underestimate the difficulty that will come with losing a stable income (the residency paid her £1000 a month). But she hopes her resignation leads to "a rupture" that cannot be ignored.