Seventy-two years after Viola Desmond went to jail for sitting in the wrong section of a movie theater, her efforts fighting for civil rights are being recognized. Desmond will soon be the first Canadian woman to appear on her country's currency.
This week, Canada unveiled its first $10 Canadian dollar featuring a portrait of Desmond. Although she passed away in 1965, her sister Wanda Robson appeared at the ceremony in her stead.
"It's beyond what I ever thought. It's beautiful," Robson said at the event in Halifax, according to the Guardian. "Our family will go down in history…I say thank you, thank you, thank you."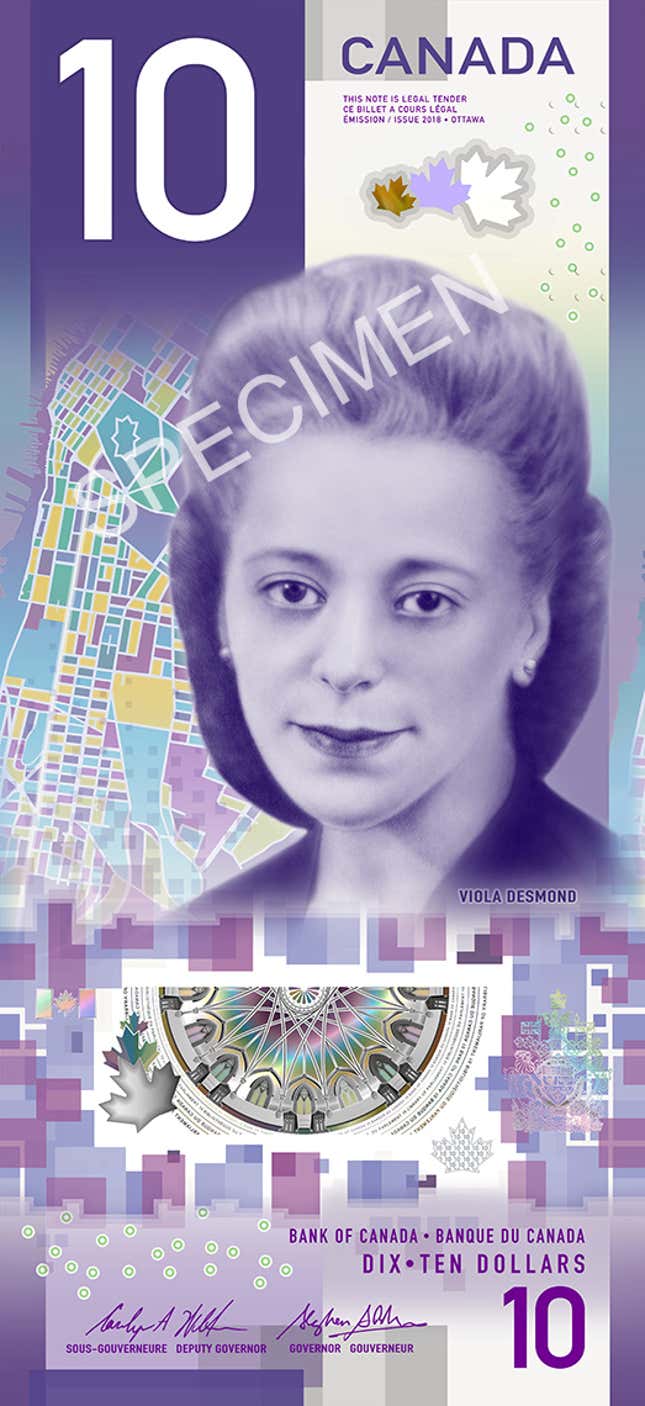 Desmond started out as a school teacher in Canada, but dreamed of being in the beauty business. In the 1930s and 40s, Canadian beauty schools were restricted to  white women; Desmond relocated to Atlantic City, New Jersey to earn her degree from the Apex College of Beauty Culture and Hairdressing. She then returned to Canada to establish her own salon and eventually her own beauty school in Halifax.
One day in 1946, while on a business trip, Desmond's car broke down in New Glasgow. She decided to see a movie while she waited, bought a ticket, and went to sit in her preferred section, the lower level (the screen was closer, and Desmond was shortsighted). She was stopped and told by a clerk that she could only sit in the balcony above, and that the theater did not sell downstairs tickets to "you people."
Desmond dismissed the policy, and made herself comfortable downstairs. The theater called the police, and had her escorted out. Later, she was convicted of tax evasion for not paying the $0.01 premium on a downstairs ticket. Desmond spent 12 hours in jail over a single penny, and was eventually charged a $26 fine for the entire incident.
Desmond died just over a decade after Canada passed federal laws to de-segregate, and she wasn't officially pardoned until 2010. Now she is finally being memorialized on the country's first vertical bill. Although Queen Elizabeth II appears on a lot of Canadian currency, Desmond will be the first Canadian-born woman to do so. Her bills are expected to be in circulation by the end of the year.
Meanwhile, the US Treasury's plans, announced in April 2016, to feature abolitionist and Civil War spy Harriet Tubman on the $20 bill, appear to be on hold.