Rio de Janeiro
When Michel Temer became the president of Brazil in May of 2016, replacing the impeached Dilma Rousseff, he nominated a 23-member cabinet of all white men. His bold rejection of diversity shocked women and blacks, who had grown accustomed to at least some minimal representation in national politics. Four months later, Marielle Franco, a black lesbian woman hailing from the Maré favela, received the fifth-most votes in the Rio de Janeiro city council elections. Her dominant win and her subsequent follow through on her promises gave hope to many Brazilians who longed for representation and had grown tired of Brazil's corrupt and disconnected politicians.
That hope didn't last long.
On the night of Mar. 14, Franco, 38, was assassinated in her car after leaving a black women's empowerment event that she had organized. Of the nine shots fired, four hit her head. Her driver, Anderson Pedro also died. The news of her death quickly spread through messaging and social media networks. According to Piauí, over the next 42 hours, Franco became the subject of more than 3.6 million tweets from 400,000 users in 54 countries and in 34 languages—more than the impeachment of president Dilma Rousseff.
By the next morning, there were already vigils, and protests planned in 15 cities across Brazil. More than 20,000 people showed up in Rio de Janeiro's Cinelandia neighborhood the night she was buried. These protests spread across the world as people in New York City, Paris and even Buenos Aires held gatherings and protests in her honor.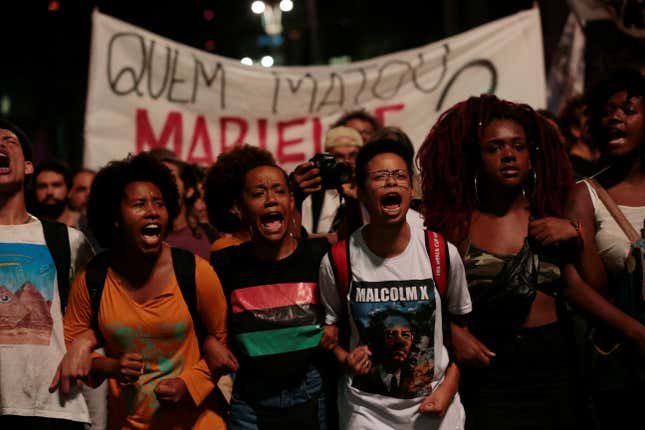 Although Franco had yet to enter Brazil's divisive national politics, her assassination reverberated with people nationally and internationally. Brazil lost a politician who helped those who had long been ignored—women, the poor, and blacks. But with her death, it seems the world has gained a martyr.
"She was deep in the fight and she seemed to do it with so much compassion," said Claudia Bernett, an American who attended the Mar. 16 protest in New York's Union Square. "She was blazing new paths and actively changing how women are defined and regarded—this is something I would hope to emulate in my life."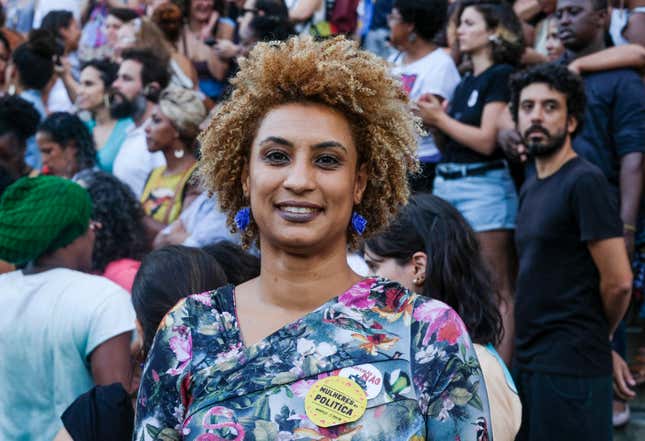 Marielle Franco dedicated her life and political career to defending human rights. She grew up in the Maré favela, one of Rio de Janeiro's most dangerous and poor squatter communities. A free college-prep course led to her matriculation at one of Brazil's elite universities, Catholic University of Rio de Janeiro. There she studied social sciences and decided to pursue human rights work when one of her best friends was killed by a stray bullet during a shootout between drug dealers and police in the Maré favela.
After 10 years working in Rio's human rights commission, she ran for city councilwoman representing the liberal Socialism and Liberty Party (PSOL). Her 2016 campaign, branded the Brazilian feminist color of purple, introduced 50 ideas to help women, Afro-Brazilians and the poor. When elected, she became the only black woman representative on the 51-person council and one of only seven women. Of the 19 potential laws that she introduced, two became laws.
"Her greatest victory was simply just being there and representing us," said Jaqueline Gomes de Jesus, an Afro-Brazilian college professor who plans to run for a seat on the Brazilian congress in the October 2018 national elections. "It was a victory for all the groups who have been historically excluded. Her occupation of this space; the approval of her laws; her presence in the debates; realization of events; all of this are indicators of her success."
Her death is still being investigated, but many people think her recent denouncements of Rio de Janeiro's police may have led to her assassination. The bullets used in her murder were from a batch bought by the Brazilian federal police in 2006. These bullets were also used in a 2015 18-person massacre in São Paulo.
As public security in Rio de Janeiro has deteriorated, Franco's recent work focused on violence and police brutality in favelas, which disproportionately affects young black men. Human rights workers refer to this as the genocide of black people in Brazil. Afro-Brazilians make up more than 70% of the country's murders, many at the hands of police. More than 1, 000 people were murdered by police last year throughout the state of Rio de Janeiro.
It reads: Another murder of a young man at the hands of the Policia Militar. Matheus Melo was leaving church. How many more will need to die for this war to end?
Another tweet denounced the 41st battalion of the Policia Militar, widely known as Rio de Janeiro's most deadly police squad.
Most of the protests in the coming week will not only honor her, but also acknowledge the police violence that blacks suffer in Brazil. Franco's assistance wasn't limited to civilians. It was revealed that she also extended help and support to families of police who were killed in Rio de Janeiro. Rose Vieira's son, a policeman, was killed in 2012 and she sought help from the human rights commission of Rio de Janeiro, where Franco worked for 10 years.
"Just to give you an idea, Marielle did not have a car at this time," she told Globo.com. "She wasn't even a councilwoman. She arrived [at my house] by train. I can't say that this person did not help me. Who would come all the way to Duque de Caxias, another city by train just to help? Only Marielle."
Staying true to her mission to protect Rio de Janeiro's vulnerable communities, Franco also recently became the leader of a commission that will monitor the recent federally imposed military intervention. The intervention, which aims to improve Rio's public security, was criticized by Franco as being ineffective.
Franco and Anderson were buried on the evening of Mar.15. This week Franco's supporters are planning more protests across Brazil and the world.