Today (March 22) marks the two-year anniversary of the Brussels bombings as well as the one-year anniversary of the Westminster terrorist attack. A wave of violence including the spate of attacks across France has Europe trying to figure out how to tackle radicalization and better share information among governments, law-enforcement agencies, and religious communities.
Gathering in Brussels today, politicians, security experts, and religious leaders from across the EU and the Middle East discussed the challenges in tackling  jihadist radicalization in Europe and beyond. In a speech, Julian King, the EU's security commissioner, identified some key areas that the EU perceived as pressure points for radicalization.
The risk of returnees
King said that the speed of change in terrorism's evolution raises new questions about handling homegrown extremists. Europeans who have traveled to become part of the Daesh (also known as Islamic State and ISIS) are on the "wrong side of the law," he said, but officials must find ways to integrate them within society—and have them dispense with dangerous ideologies, if they return to European soil.
"When it comes to children, it's a lot more difficult," said King. "They may have grown up in the medieval barbarity of the caliphate and have may be become accustomed and brutalized by war and horrific practices and were involved in killing and torture. They may have left the EU when they were very young and come back very differently. We need to think of how to integrate them and their welfare but balance the risk they may pose."
The other major area that King pointed out was the role of the internet in radicalization. While Daesh-controlled regions have been retaken, its presence online gives it the power to continually disseminate propaganda everywhere.
"The internet features heavily in all the terrorist attacks last year—from preparing for attacks to gloating [over the outcome]. It used by terrorists to groom, recruit, and celebrate their violence," he King. "While removing [terrorist propaganda] is vital on its own, it's still too late." The EU has been working with internet companies to ensure that terror-related content is taken down within an hour of notification from law enforcement.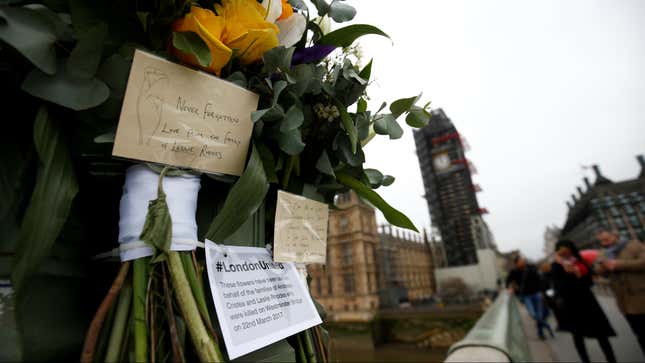 How the internet amplifies ideology
In 2016, three suicide bombers killed 32 and injured 300 others in two coordinated attacks in Brussels. They first set off a bomb at Brussels Airport and then denoted an explosive at the Maalbeek metro station. A year to the day later, a man drove a car into pedestrians along Westminster Bridge outside parliament in London. He ran into the Westminster palace grounds and stabbed a police officer. In total, five were killed and dozens injured.
Britain endured three other attacks in 2017 alone. On June 8, three Muslim extremists drove a van into pedestrians on London Bridge. They attacked passersby with knives. By the time officers shot dead the three attackers, eight people had been killed and dozens of others injured. In September, an Iraqi-born teenager detonated a homemade bomb that partially exploded on a train at Parsons Green tube station, injuring about 50. He was later found guilty of attempted murder.
A core motivation of terror attacks, jihadist or otherwise, is the perpetuation of extremist ideology, Roberta Bonazzi, president of the European Foundation for Democracy, told Quartz. "If we look at the phenomenon overall, the common thread through whether activity has been conducted online, by groups, or so-called lone actors, the role of ideology is what provides them with the moral reason for their violence," she said from the Brussels event. "This includes everyone from Islamist jihadists, white supremacists, and extreme left-wing anarchist groups. This is no longer a police matter, there are many layers we need to understand, even at the grassroots level, on how they operate and brainwash people."
The need to combat extremism of all types
King said "we cannot afford to overlook" the fact that terrorist attacks of non-jihadist origin sometimes go under reported in the media. He cited the example of the UK case of Darren Osborne, a white man who killed one person and injured nine others when he drove a van into a group of Muslim worshippers outside the prominent Finsbury Park Mosque in London, just two weeks after the London Bridge attacks last year.
"Regardless of motivation and ideology, we've got to understand that [those who carry out terrorist attacks] learn from each other and adapt their methodology accordingly," he said. "If we are going to [heighten] our efforts in counter terrorism, we need to close down spaces of extremism in all forms."
That again points to the responsibility of the online giants. Bonazzi emphasized that tech companies have been too slow in responding to the spread of harmful ideology. "While efforts to tackle radicalization come from both individual and smaller community reporting, internet companies are part of the narrative. They've been slow in responding and dragged their feet over taking action," she said.