I'm planking, my muscles are on fire, and I'm face to face with the guy leading the development of the futuristic, cashier-less Amazon Go stores. He tells me his name is Dilip and his father is a four-star general. I note that, in case I'm tested later by the former Navy Seal currently yelling at us to keep our cores activated.
Along with 10 tech executives from Amazon, Sonos, Skydio and other startups, I'm baking in the Palm Springs sun, less than an hour into Navy Seal training. It was a far cry from the air-conditioned auditorium we had been sitting in hours earlier, listening to how a researcher reprogrammed the human brain to see objects by interpreting signals from the tongue.
That's what you get for accepting an invite to an event run by Amazon CEO Jeff Bezos. It's going to be intense, both physically and mentally.
This was Bezos' third year gathering some of the most notable figures in tech and space  at a swanky Palm Springs resort, for a private, three-day collection of presentations and conversations on machine learning, automation, robotics, and space exploration—the initials of those fields spell MARS, giving the conference its name. Until now, it was mostly held behind closed doors—the biggest image to escape was Bezos stomping onto stage last year in a 13-foot-tall robotic suit.
MARS is one of two exclusive conferences Bezos runs each year—the other is Campfire, an equally exclusive retreat originally geared towards authors. Since Amazon's entry into premium video content, that conference has pivoted more towards actors. Either way, the goal is pollination: at MARS, leaders of Bezos' myriad businesses get to rub shoulders with AI buffs and NASA scientists outside the pretenses of academia and industry gatherings. It's a good way for Amazon to get new ideas, and if someone is working on a problem Amazon is interested in solving—well, talent in these fields is scarce.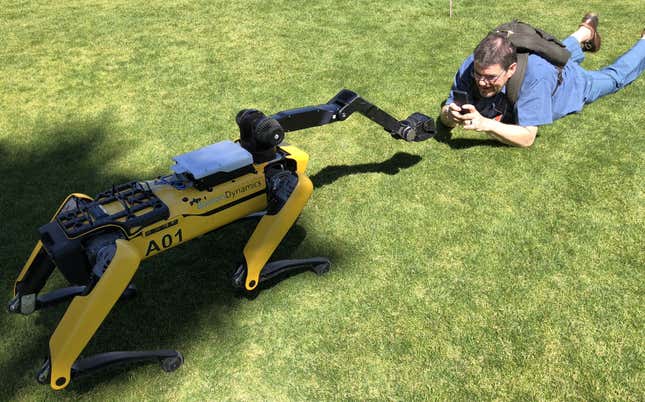 Bezos was more conference goer than host. The world's richest man attended every presentation, always sitting in the first row, listening intently. He played with every robot at the event, asked questions and tested each one himself. His only time on stage was a short, four-minute speech on the conference's last night, to give his reasoning for having the event at all.
"If you could hold a conference about the beginning of a golden age, why wouldn't you?" Bezos asked a field packed full of rocket scientists, AI researchers, and roboticists. "I really do believe that we are on the leading edge of an incredible renaissance."
Bezos has called these shots before, and, with his diverse portfolio of projects, he's placing bets on areas with even greater potential—ones at the scale of the universe. Space, after all, is the ultimate expression of thinking big.
The event rounds out as half intersectional academic conference and half billionaire's playground, set in the lavish trappings of a four-star resort. After a morning's presentation on robotic grasping and neuroscience research, researchers broke out into afternoon activities, you know, just the usual fare of falconry, fighter plane piloting, and Navy Seal training. Other attendees did workshops on hiking, mountain biking, blacksmithing, and sausage-making. If productive conversation comes from talking in good faith with a goal of common understanding, that's easier if you've helped someone pump sausage meat into a intestinal casing.
Nighttime talks, whether from Michael J. Fox on Parkinson's disease research or cagey researchers debating superintelligence, were followed by whiskey and cigars around a fire pit. A tabby cat with no tail padded around deep into the night, getting treats from the bartenders and head scratches from the attendees.
The event is packed with surprises: Last year, Bezos took to the stage in the now-infamous mechanical suit. This year he took Boston Dynamic's SpotMini for a walk to lunch, the next day piloting the bot himself. Never-before seen footage from NASA's Juno spacecraft was previewed on a huge outdoor screen. Bezos mingled with attendees and competed against robots during lunch. He lost to a robot arm at the water bottle flip challenge, faring slightly better against Omron's ping-pong robot.
But the event wasn't just CEOs at play—speakers presented on the future of space exploration and travel: David Reitze, executive director of the LIGO Laboratory, detailed how his team first detected gravitational waves. Natalya Bailey, CEO of Accion Systems, fired a tiny ion rocket onstage meant for use in small satellites.
Bezos' own technology was on display, though it took a backseat to the invited guests. Amazon showed off an imaging and AI system that analyzed fruit to triage which produce needed to be shipped before it went bad. A Blue Origin capsule meant for reusable human space flight was brought to the hotel, and MARS attendees were strapped in for a simulation of a launch.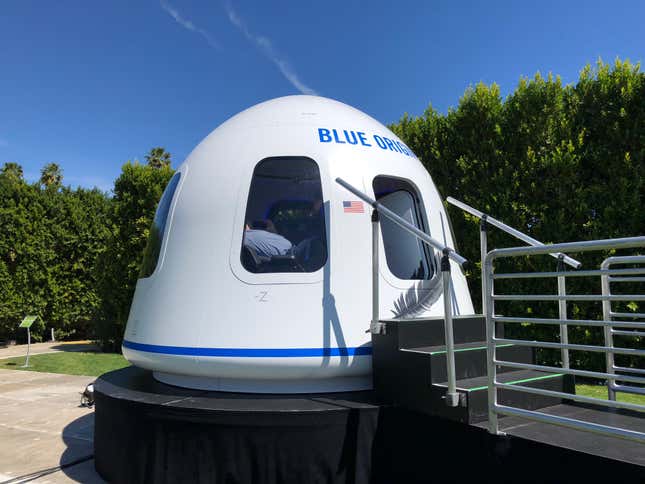 "It felt like the video was reality and everything outside was actually fake," an astronaut who attended the event told Quartz.
The conference isn't without benefit to Bezos and his companies. If you think about the conference as 200 people that Bezos wants to hear speak, the event's scattershot attendee list begins to crystalize around his personal interests and those of his companies.
A number of presenters applied advanced technology to healthcare, an industry Amazon is reportedly stepping in to disrupt. A startup called Sonde Health spoke about its algorithms that analyze depression and physical characteristics of health from a simple voice recording taken via smartphone. A former Autodesk researcher turned personalized medicine CEO talked about using viruses as delivery systems for tailored medicines.
Bezos' interest in propulsion research and satellite communications highlights how competitive the private space sector has become. Rocket science isn't like building an iPhone; without a pulse on the most efficient and cutting edge-techniques of traversing Earth's atmosphere and beyond, Blue Origin might miss future waves of technological advancement by focusing only on the near term.
These are all keys to the renaissance Bezos sees, and it's clear that his businesses are situated to realize his version of the future. Machine learning now permeates every facet of Amazon, and it's built a dizzying network of automated fulfillment centers. Blue Origin is a major competitor in the commercial space business, and Bezos is committed to pumping billions of dollars of his wealth into the company.
Bezos, of course, has a good track record with his long-term bets. In 2005, he knew that Prime membership would be crucial for maintaining customer loyalty, and today Prime is the centerpiece of Amazon's strategy.
We very well could be headed for a new golden age built on AI, robotics and advancements in space exploration, or it could be hype. But if there's anyone with the vision, patience and deep pockets to bring it to reality, it's the man who turned a site that sold books into the second most valuable company in the world.