What a difference a month makes. In early August, the Indian rupee was falling like a rock, prompting panicky policy reactions and predictions of doom. Now, sensible policy moves from the Indian central bank, and hopes that the US Federal Reserve will keep its stimulus going for a bit longer, have triggered a 4% gain for the rupee since the beginning of September. And it looks like the going could get a little better still.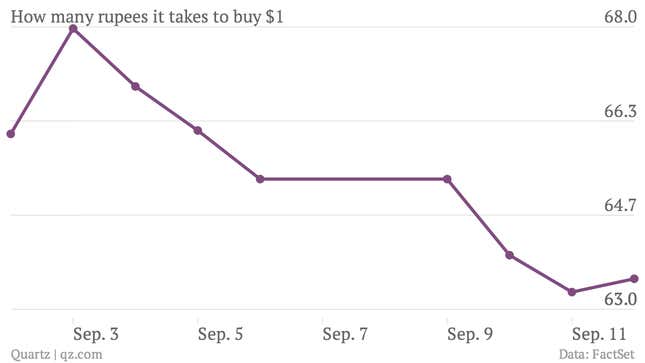 Factory output for July was surprisingly robust, growing 2.6% year-on-year even though economists expected it to shrink for the third straight month. The strong rebound in capital goods—a barometer of investment in the economy—especially raised hopes that the economy might claw its way out of the slump.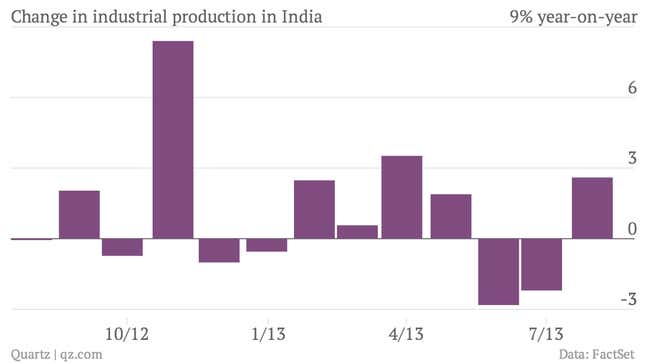 There was good news on the inflation front too. Consumer price inflation for August eased to an annualized pace of 9.52%, the second consecutive month that it has fallen. The respite came mainly from cooling food prices, which had been eating into household budgets.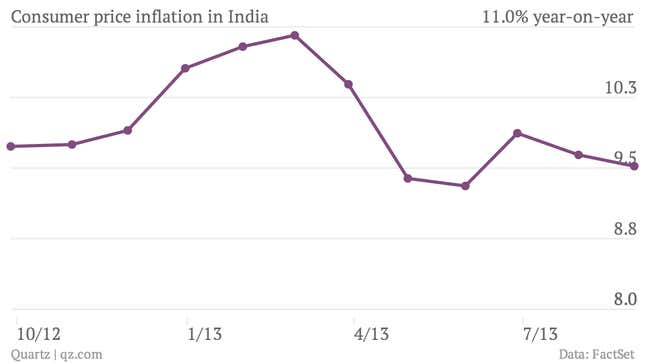 The declining trend in consumer inflation will give the central bank some room to maneuver in its next policy meeting on Sept. 20. Even though an outright cut in benchmark interest rates looks unlikely, the inflation relief could embolden the Reserve Bank of India to reverse some of the liquidity tightening measures that have been in place since July.
The rupee may get some help from the government too. The oil ministry is mulling raising the price of diesel, which account for more than 40% of the fuel use in India, and of cooking gas. If the price hike comes through, it will reduce India's $170 billion annual oil import bill, and reduce the current-account deficit.