The Louvre Museum in Paris has long wrestled with art forgery. But thanks to the ingenuity of Chinese counterfeiting, its entry tickets are the latest problem.
In a package sent from China, Belgian officials found some €144,000 ($192,000) in fake tickets to the Paris museum at the end of August, according to France24.com. (A ticket to view all of the Louvre's collections costs €16.) The fakes, which were "priority" advance tickets that allowed its ticket-holders to avoid queues, were thought to be sold through Chinese tour operators, a Louvre source told the Paris newspaper. The Louvre is one of the most popular tourist destinations in France, a country that hosted nearly 1.3 million visits from Chinese tourists last year.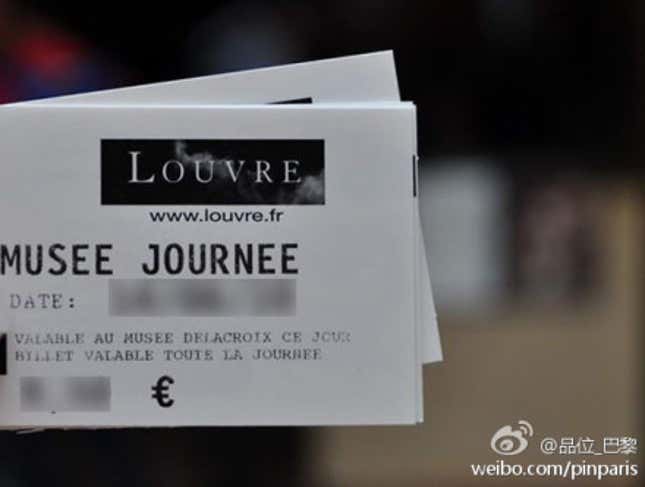 Staff at the Louvre first wised up to the scam in mid-August, when one noticed that an admission ticket given by a Chinese tour guide felt "strange."
But the counterfeiters upped their game. Soon thereafter, Louvre staff confiscated a slew of tickets from Chinese tour groups that "were in every way identical to the genuine article," according to Le Parisien (link in French), via France24.com.
Belgian customs still sussed out and stopped a single shipment, but the problem could be much bigger. "Our tickets are valid for a year," a Louvre source told Le Parisien. "There's no telling how many are in circulation and there's no way as yet of calculating the cost of this scam to the museum."
Similar "priority" Louvre admission tickets are sold on Taobao, though it's not clear if they're fake.
In China, at least, this scam is an old trick. The Louvre isn't the first to be hit by China's counterfeiters. Last year, Tuscan police discovered $35 million in fake tickets for Rome's "Leonardo Express" train in a shipment from Ningbo, on China's eastern coast.
French authorities haven't yet threatened legal or diplomatic action, but the incident is another drag on the image of Chinese tourists abroad. Chinese tourists might be thumbing their noses back at the French; they're already down on the City of Light after reports of rampant pickpocketing and crime.