A few years from 40 and still single, a worry nagged me: I would never meet a lover again. Soon, however, I would meet a guy who had long-term potential but was fresh out of a relationship. Several months into our relationship, before heading to the beach, he popped the question—well, not the question: "Can we just be friends?"
I declined but refused to mope; I went to the beach alone.  A cute guy made eye contact with me and approached. "I am Luis," he said in a mellifluous Spanish accent. We chatted for a while and exchanged numbers. Freshly dumped, I was indifferent. On an early date, with little to lose, I nonchalantly told him I get mood swings. "I want to be your medicine," he told me in his soothing Colombian accent. He was winning me over.
He helped me organize my home, making four two-foot piles of t-shirts I never wear. "Give them to charity," he said, prompting a cathartic donation. One of his favorite expressions: "Don't complicate your life." He brought me balance I so desperately needed.
I'd do anything to stay with him, but one thing was impossible: Helping Luis, who had arrived in the United States in 2001, get a green card. When he arrived, no state recognized same-sex marriage. Since then, much progress on the marriage front has been made: eight states and the District of Columbia now recognize same-sex marriage and 12 states have some form of partial recognition through civil union or domestic partnerships. Yet sponsoring a same-sex spouse to legally stay in the United States is impossible because the Defense of Marriage Act prevents federal recognition of same-sex marriage. About 40,000 U.S. residents cannot sponsor their same-sex partner to immigrate, as opposite-sex couples can do, according to UCLA's Williams Institute for Sexual Orientation Law and Public Policy, based on a 2011 analysis of US Census data.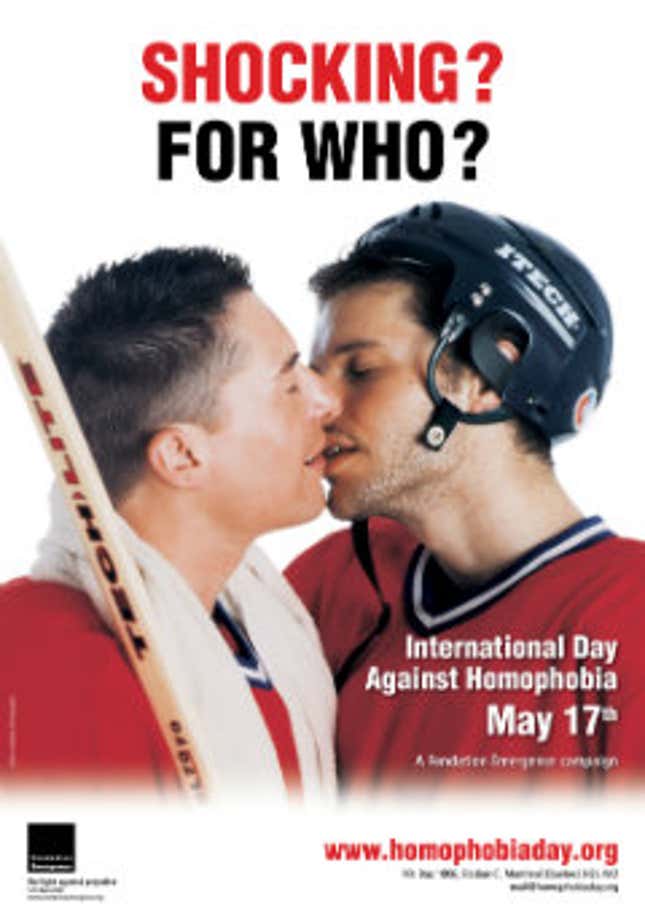 There aren't many other options for these couples. Just about two dozen countries—including Canada, the Netherlands, Spain, South Africa and Iceland— recognize same-sex couples for immigration purposes, but most require one of the partners to be a citizen of that country to immigrate there. One of the few exceptions is Canada, which has permitted same-sex couples to immigrate under a revised immigration law since 2002, and under humanitarian grounds before then, even if neither partner is Canadian. So Luis and I decided to move north.
Forging new lives in a new country has been part dogged determination, part guesswork, like making a meal for the first time with a list of ingredients—but no recipe. Many times, we've felt lost. Same-sex couples around the world are forced to do the same guesswork as they live in exile, as documented in "Love Exiled," which highlights our journey and those of three other same-sex couples who headed to Canada to stay together.
Our planning for the move began in late 2005, when I meticulously prepared the immigration application, documenting our relationship with copies of cards from our joint healthcare plan, shared credit cards and dozens of photos from years of vacations. Slightly more than a year later, Canada approved us for permanent residency, giving us a year to arrive before the welcome mat expired.
That gave us just enough time to throw a commitment ceremony, which in a way served as our good-bye to our lives in New York. The planning of the commitment ceremony and our move and the ceremony itself would air on the Style Network's show "Whose Wedding is it Anyway?" The premise of the show is whether the wedding belongs to the couple or to the wedding planner. For Luis, who had been envisioning his wedding since he was 12, the answer was clear: The planning was his, and he demanded all white, from the flowers to the tablecloth to the seat covers, for the wedding at the Historical Thatched Cottage in Centerport, New York. During filming, a producer asked my mother, who had been diagnosed with breast cancer that metastasized to her bones, how she felt about our move to Canada. "It's far, but we'll get there," she said, tears welling up.
Soon after the ceremony, which had no legal standing, we found true liberty and happiness about 30 miles north of the border, legally marrying each other in Victoria, British Columbia, on the Fourth of July in 2008. We then moved to Vancouver, but our ordeal had just begun; we arrived jobless.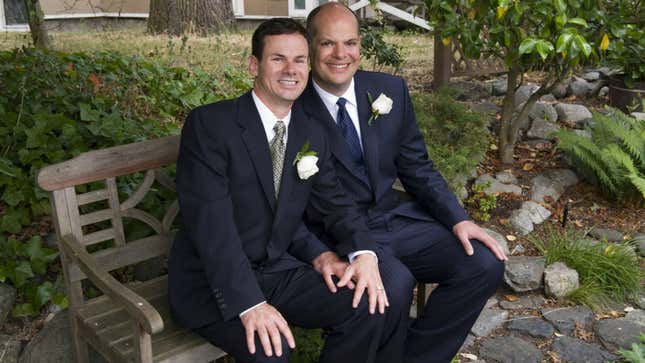 Settling in during the economic downturn in 2008, we couldn't find work. I'd worked as a computer programmer on Wall Street and as a reporter and columnist at Newsday in New York, ending my career as a consumer reporter, a dream job I once said I'd never leave. A fast typist, I even tried to get work in Vancouver as a temp worker. No luck. We had some savings, maybe for a year. But I was nervous. A Starbucks coffee was a luxury we couldn't afford. At one point, I redeemed returnable bottles I found in the recycling bin in my building, prompted more by anxiety than by the little amount I would get for the deposit.
We have since found work, but we both remain bitter that the Defense of Marriage Act, a 1996 law, signed by President Bill Clinton, prevents the federal government from recognizing same-sex marriage for any federal purpose, effectively banishing us from the United States. Though the Obama administration won't defend the law in court, the administration hasn't pushed to repeal it, either. I file US taxes but get little benefit.
But we're finding our place abroad. I took a three-week, government-sponsored course on career changes, narrowing the choices to author; radio reporter or host; and professor or teacher. Now, I'm doing all three. I am working on a book about self-esteem and mental illness. I host a radio program, which seeks to reduce the stigma of mental illness.
And I launched  a company, teaching US college-entrance exams, the SAT and ACT, in person and online to students around the world. My business is thriving; within months, I'll hire tutors. Ironically, while the United States is hungering for well-paying jobs, one of its own citizens has been forced to create them—abroad.
Luis had worked as a medical technologist in Colombia. It took two weeks for the United States to recognize his credentials. In Canada, a private organization that represents the interests of existing medical technologists oversees the granting of credentials for foreigners. The organization demanded a translated copy of not only every transcript but also every syllabus. Then he was told he had to take a course to upgrade his skills, but the course wasn't offered. An online course proved fruitless. Years later, after spending thousands of dollars, he gave up.
He now maintains plants for an interior landscaping company. But in Vancouver, a city that some say has a special spiritual vibe, Luis has taken several courses on meditation and healing. We just celebrated 10 years together, and I can say for certain he has helped to heal me.
After four years of living in the stunningly beautiful city of Vancouver, we don't know if we'd move back, but we'd like the option to live in the United States, where voting is my right and taxes are my duty but where—despite progress for gay rights—loving Luis remains a luxury.