Google dominates US classrooms with its affordable laptops and free apps like Google Docs. Now Apple appears to be getting serious about recovering some share of the education market.
Apple executives announced their latest education products at a Chicago high-school auditorium today (March 27) to an audience of journalists, analysts, educators, and students. The hour-long event had little new hardware on show. "We believe iPad is best at engaging students," a company representative said onstage. But it's not clear that its latest offerings would put a serious damper on Google and its partners' education sales.
Here's a quick rundown of everything Apple announced.
A new iPad
Apple revamped its 9.7-inch iPad that supports Apple's stylus, the Pencil. It features just about everything you'd expect on a tablet of its ilk, including a Retina HD display, an 8-megapixel camera, Apple's A10 processor, which was first seen in the iPhone 7, a TouchID fingerprint scanner (no FaceID sensors like on the new iPhone X), and a front-facing camera for selfie-taking and Skyping.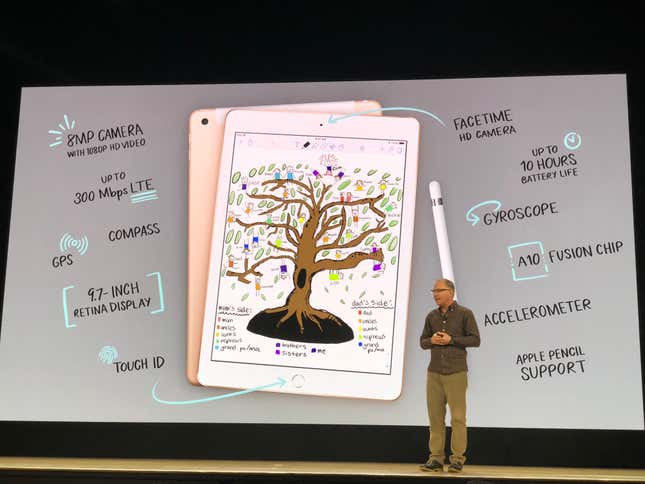 Unlike the more expensive iPad Pro (which starts at $649), this iPad does not support Apple's Smart Keyboard case. Apple also did not reduce the price of its Pencil stylus (which is still $99), but did announce that Logitech is making a stylus called the Crayon which will work with iPads, and starts at $49.
The new iPads start at $329 for a 32GB model. Apple said that teachers and schools will be able to get them for a discounted rate of $299. It comes in gold, silver, and grey. Sadly, no rose gold.
New software
iWork updates. Apple announced a new suit of iWork apps with tons of updates for schools. It focused mostly on the new version of Pages, where teachers can make textbooks for their students directly on an iPad, as well as mark up documents using an Apple Pencil. Students can collaborate on editing projects together in class over wifi, much like they've been able to on Google Docs for years.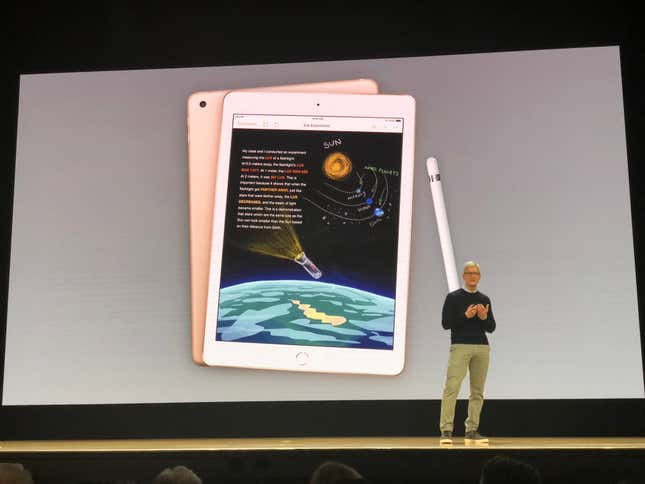 Minor apps get minor updates. GarageBand, Apple's music-making app, got minor refreshes, including a royalty-free sound library for class presentations. Clips, Apple's Snapchat-like video app, got new Apple-designed posters and animations that make it easier for students to make mini-presentations on the fly.
Schoolwork. Apple released a new app for teachers to keep track of their students, and basically make digital handouts for homework as easily as they can write an email. The app also lets teachers assign specific tasks to students within educational apps and see how well they're progressing. Obliquely referencing issues in the news right now, Apple harped on the fact that the data in this app is private, seen only by the student and teachers involved. The app will launch in June.
More storage. Apple announced that all iCloud accounts associated with a school will now get 200GB free cloud storage, a massive boost over the 5GB it previously offered. It didn't extend this offer to those who have graduated, and it's worth noting that Microsoft Office 365 subscribers get 1TB of free data.
Everyone Can Create. Apple said that it will soon launch a new curriculum, focused on how the iPad is a powerful creative tool for the classroom. It builds on the Everyone Can Code curriculum it previously launched to encourage students to learn to code.
Nothing else
Apple did not announce any updates to its low-cost laptops, including the MacBook Air, which many had been hoping for. It didn't announce availability for AirPower, the wireless-charging mat it previewed back in September. It didn't even introduce a new version of its Pencil.
There were no surprise reveals at this event, and it was true to its invitation, which said we would "hear creative new ideas for teachers and students."
Is it enough?
The pricing structure effectively rules out the new iPad from being a true competitor to most Chromebooks. Despite what Apple would like us to believe, it is not that easy to type out a term paper on a touchscreen. The new iPad software (more on that below) will definitely make doing project work and taking notes at school far easier. But doing essays, browsing the web, and chatting with friends is a lot easier to do when you have a proper keyboard to type on, and you can easily type on the device on your lap or a table. What's more, if you're buying Apple's new iPad and a Pencil, even with the school discount, the starting price is $398. Many Chromebooks are the same price or cheaper, and have touchscreens as well as full keyboards.
Then there's the issue of whether schools that have already invested in Google's suite of offerings would be willing to switch back for the sake of Apple's new software and stylus capabilities. Then again, at least iPads have all of Google's apps on them.
Perhaps there's hope. While sitting in the school's cafeteria after the event, one teacher spoke with her colleagues about the new iPad. "It's not like, revolutionary, but it's way more helpful," she said. "The stuff we're asking for, they're listening."