More than a year into his presidency, Donald Trump has finally closed a trade deal. The White House has announced an agreement with South Korea—an update to a 2012 free trade pact that Trump once called a "job killer." Administration officials say the deal creates a "level playing field" for US carmakers to compete in Korea, by raising the limit on US auto exports exempted from the country's higher safety standards.
But the biggest achievement of Trump's free trade pact is a trade barrier. And it's one that lets US carmakers charge way more for pickup trucks than they otherwise might.
Detroit's profit machine: pickup trucks
The old version of the US-Korea trade agreement already let the US shield its domestic pickup trucks from Korean competition by allowing a 25% tariff—known as the "Chicken Tax," for reasons I'll explain shortly—that was to be phased out starting in 2021. The new deal pushes that phase-out date to 2041.
That's crucial because Americans love the heck out of their trucks, making them the biggest, most profitable segment of the US auto market. Pickups accounted for around 15% of the 17.2 million cars and trucks sold in 2017. The three bestselling vehicles of any kind were all pickup trucks: Ford's F-Series, the Chevrolet Silverado, and the Ram. On average, Ford sells a staggering 102 of its F-Series trucks every hour. That's nearly two a minute.
And this isn't a new trend. Ford's F-Series has topped the list for 36 years straight.
These cars are not cheap. Ford jacked up its F-Series price to $45,400 as of September 2017—a 3% increase from the previous year, in real terms. Fat truck margins boosted Ford's average North America sales price by more than twice the industry average (pdf, p.14). "There has been no greater profit machine in the history of industry than the Ford F-Series," a prominent auto industry analyst once remarked.
America's insatiable appetite for gigantic vehicles has an essential role in propping up Detroit's profits. But that profit isn't thanks simply to truck-mania. It's also because the US has blocked foreign competition.
Korea, you see, is not alone in being effectively shut out of the US truck market. The 25% tariff applies to all pickup imports, and has for many decades (compared with 2.5% for regular cars).
And here's where things get weird.
The "Chicken Tax" and its dramatic history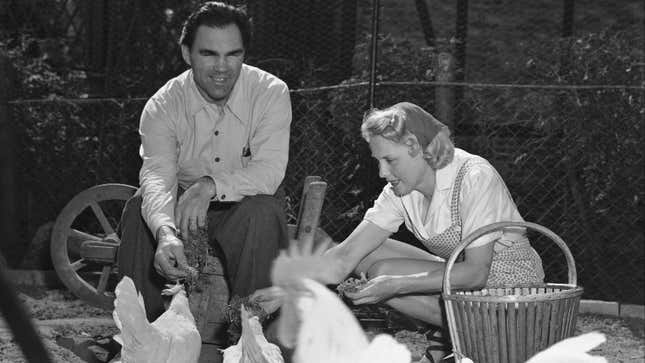 US automakers' owe thanks for their plum pickup-truck profits to Germany—and to a transatlantic trade spat better known as the "Chicken War."
The story starts in the early 1960s. Back then, chicken was a rare and pricey luxury food. So much so that "it was said that the European workingman ate a chicken only when either he or the bird was sick," as Time reported in 1962. That was because European farmers didn't raise many of them.
In the US, farmers sure did, and they were busily devising efficiencies of scale that allowed for cheaper and cheaper birds. As West Germany's postwar recovery gave way to a boom, its newly flush residents discovered a taste for chicken. US farmers capitalized on this by freezing their birds and shipping them across the Atlantic. By 1962, the US supplied nearly 25% of West Germany's poultry imports, up from 1% in 1956 (pdf, p.3).
This incoming flood of American chickens tanked prices, ticking off European farmers. So in 1962, the European Economic Community slapped a steep tariff on West Germany's chicken imports.
US politicians were up in arms. One senator, William Fulbright of Arkansas, even threatened to pull US troops from NATO, according to Arkansas: A Narrative History. "About half" of the diplomatic correspondence between German chancellor Konrad Adenauer and US president John F. Kennedy concerned chickens, Adenauer latter recalled.
These negotiations went nowhere, though, and in late 1963, the US retaliated by putting a 25% tariff on four products imported almost exclusively from Europe: potato starch, brandy, dextrine, and trucks. (Fun fact: The original target for the trucks tariff was a variant of Volkswagen's iconic bus, the flat-faced van favored by hippies and suburban families, now fetishized by the #vanlife movement.)
A windfall for Detroit
Though sanctions on the first three items were eventually scrapped, the "Chicken Tax" still shields US trucks from foreign competition to this day.
That protection, of course, has helped keep Americans autoworkers employed. On the flip side, though, the barrier means US consumers have paid far more than they ought to have for their truck habit: It allowed American carmakers to mark up those vehicles, with no competition from overseas. They've also guzzled much more gas.
The tariff is arguably the foundation of the toxic car culture that has made America a land of superhighways, sprawl, and gas price anxiety.
Harvard economist Robert Lawrence says Detroit's cushy profits "bred bad habits, steering Detroit away from building high-quality automobiles," and leaving them unable to compete against foreign carmakers and their more fuel-efficient autos. That eventually pushed the Big Three—Ford, General Motors, and Chrysler—to the brink of bankruptcy, requiring a taxpayer bailout for latter two, and heavy government assistance to keep Ford afloat.
Given its dominance of the US truck market, Detroit clearly doesn't need protection. But if Trump's Korea deal is anything to go by, American car companies can count on US consumers to keep paying the Chicken Tax for decades to come.
Correction (Mar. 29, 2018, 8.30am ET): This article has been corrected to clarify the nature of government assistance to Ford. And an earlier version of this story incorrectly referred to the "Scooby-Doo" Mystery Machine as a VW minibus; it actually shares attributes of many late 1960s vans. And we would have gotten away with it too, if it weren't for eagle-eyed reader @snd_wagenseil.