It takes some digging to find any bright spots in the latest data on Spanish home prices (pdf). The national index of housing prices fell by only 0.8% in the second quarter, when compared with the first, which isn't too bad. Compared with the same period last year, however, the average home has fallen 12% in value, marking the seventh consecutive quarter of double-digit annual declines. Every region has recorded an annual fall for at least the past two years.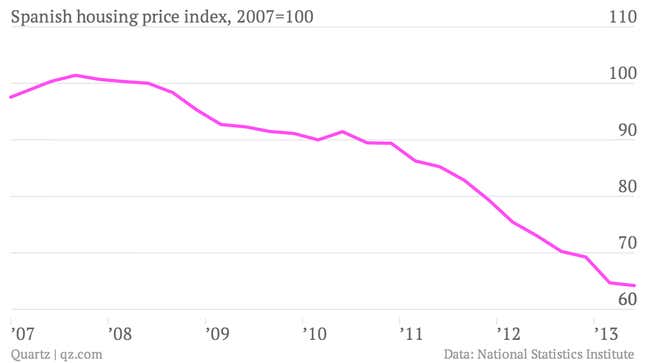 From their peak 2007, Spanish house prices have fallen by 37%. In an August assessment of the Spanish economy, the IMF reckons that Spanish real estate is still 15% overvalued, when compared with rents, incomes and long-term averages. By some estimates, it will take another five years for buyers to absorb the massive supply of homes built during Spain's property boom.
Stories are beginning to appear in the foreign press about whether it's time to consider purchasing a vacation home in Spain, given the precipitous drop in prices, particularly on the coasts. When a 288 square meter (3,100 square feet) house in Alicante is on offer for only €45,000 ($60,000), some will surely be tempted.