If you need evidence of the US retail sector's precarious condition, consider that more than 9,000 stores closed last year, and another 12,000 are on the chopping block this year, according to commercial property firm Cushman & Wakefield.
Despite a 4.2% rise in 2017 over the previous year, US retail growth is lumpy and clearly not firing on all cylinders. Every week brings gloomy news of bankruptcies or downsizings. Online sales, meanwhile, have been climbing, underpinning the sector's overall growth.
US retail is at a crossroads, with brands and retailers still trying to decide whether e-commerce is friend or foe. On one hand, e-commerce is killing traditional brick-and-mortar business, but on the other, you'll have a hard time finding a company whose future growth strategy doesn't rest on developing its online channels.
The future of retail is happening now, in China
There's no such quandary 8,000 miles away in China, where the "either-or" retail equation is being pushed aside in favor of a model, called "New Retail," melding the best of both the in-shop and online experiences.
Leading the way is Alibaba, which operates the country's largest e-commerce platforms and has more than half a billion consumers shopping on its marketplaces. Online sales penetration in China is the highest in the world, but brick-and-mortar retail still accounts for more than 80% of total retail sales.
Realizing that the future of retail will not be a question of online vs. offline, Alibaba founder Jack Ma unveiled the New Retail concept two years ago. Though still young, it's already a game-changer for many different types of retail experiences in China.
Turning supermarket hell into Hema
Who actually enjoys trundling a shopping cart up and down the aisles, searching the shelves, settling for what the store has in stock, standing in line to pay, and schlepping the heavy bags back home?
Shoppers have none of those hassles at Alibaba's Hema supermarkets, which the company created to incubate new retail innovations that could be applied to the broader industry. At first glance, Hema looks like most other supermarkets: it sells groceries, fruits and vegetables, and fresh seafood. But this is not your typical grocery store.
Shopping at Hema is a smartphone-powered experience—you can do it from home or in the store. When you're in the store, you're able to scan a bar code with your phone to get product information. Payment is also cashless, done through the Alipay platform embedded in the Hema app.
For some, Hema's "hook" is the ability to choose your own fresh seafood and decide whether you want it to go home with you—raw or cooked—or have it prepared to eat in-store.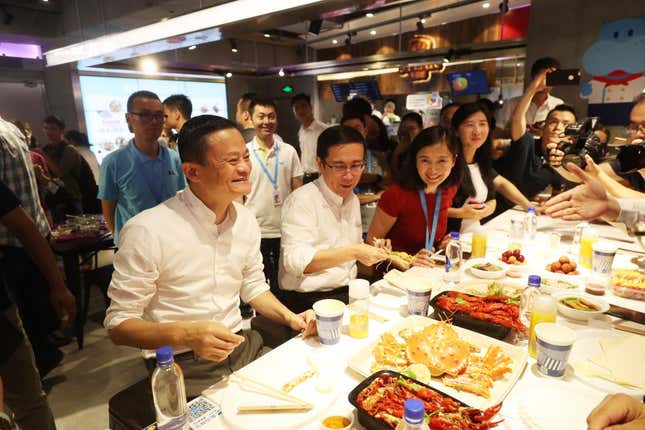 For those who live within three kilometers of the market, Hema's ability to deliver in as fast as 30 minutes is its best asset. Each store serves as its own warehouse and logistics center that collects, fulfills, and delivers customer orders as fast as they come in, online or offline.
Taking the pain out of car shopping
If you've ever bought a new car, you'll appreciate what New Retail is doing for the experience in China.
Instead of visiting one dealer at a time and spending hours perusing mega-lots and facing pressure from a salesman, Alibaba is helping roll out "Auto Vending Machines." It's a model that lets customers browse makes and models inside their app, choose a car they want to test drive, pick it up from an un-manned vending machine, and drive it for up to three days. After experiencing the car in a no-pressure situation, they can make an appointment to visit a dealer when they're ready to buy.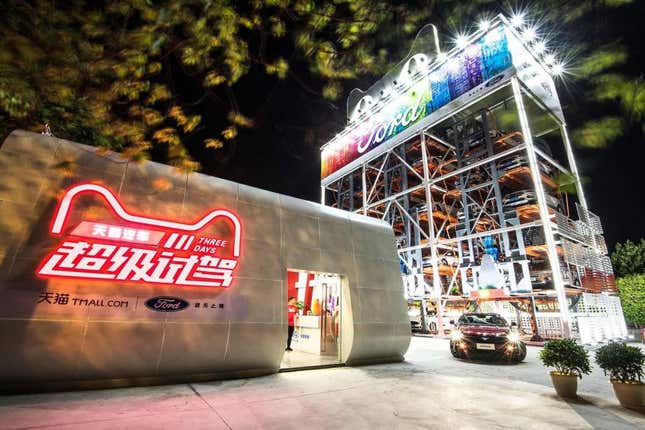 Mom-and-pop convenience stores get more convenient
The mom-and-pop convenience store is a sector long in need of a New Retail upgrade.  The lifeblood of many communities, some six million of the drinks-smokes-and-snack-shops dot neighborhoods and street corners across China. Most are family-run businesses, with proprietors ordering by gut feel and when products run out.
Until Alibaba's Ling Shou Tong program came along, the model hadn't been updated in several decades. Alibaba custom built an app to digitize the inventory management of each store. It tied these business into a central warehousing and logistics system. It also provided them with an analytics platform that anticipates customer preferences and lets proprietors know what they need to order, how much, and when. Ling Shou Tong also modernized the insides and signage of the stores. Early results point to more efficient operations.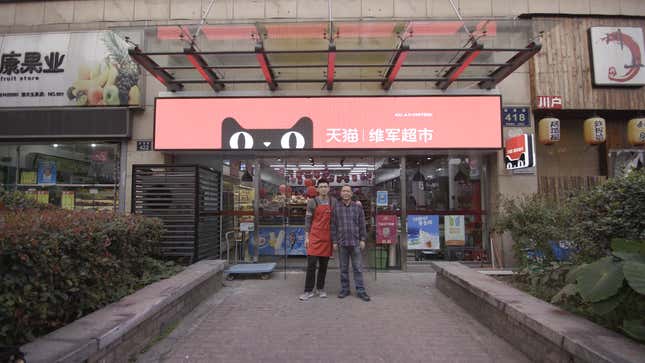 Mall rats of the world, don't despair. Here comes New Retail
And what about malls? While tumbleweeds can be seen blowing through the aisles, Alibaba has begun pumping up China's malls with a dose of New Retail. The way to customers' hearts is to have what they want, in the size and color they want, when they want it. The reality of the mall-shopping experience is that you often find the right pants, but not the right size or color in stock.
New Retail in the mall means less of a chance that you'll walk away empty-handed. Stores are equipped with "Virtual Shelves," and if you don't find your size or color in stock, you can still select the product you want on a screen, punch in your size, color, and other specs, scan with your app, and have exactly what you want delivered directly to your home.
Even the powder room of malls can be a New Retail experience. Step into the ladies' room, and while you're waiting, check out the "Magic Mirror" on the wall to experiment, virtually, with new makeup colors. Like what you see? You can buy it from the vending machine.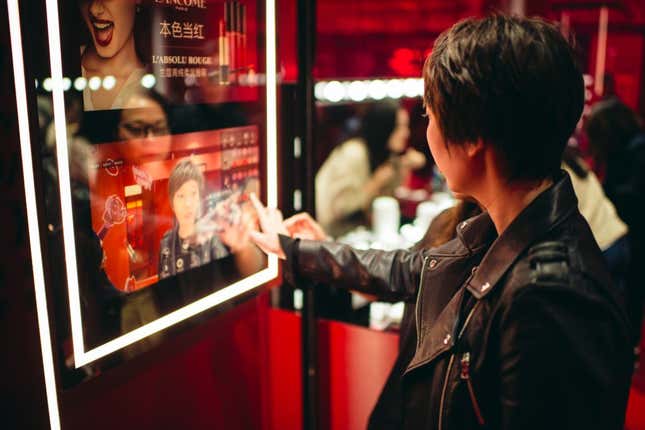 Why change happens faster in China's retail sector
To understand why change is coming faster in China's retail sector than anywhere else, you need to understand Alibaba's role. For nearly 19 years, it's built the backbone of China's giant e-commerce machine, essentially creating a "move-in" environment for brands—and an engaging discovery and frictionless purchase process for shoppers. For the brands and vendors, customer-acquisition costs go way down, because you don't need to convince anyone to download your app to implement New Retail solutions. More than half a billion of them already have it in the form of Alibaba's Tmall or Taobao app.
Meanwhile, in the US, brick-and-mortar retailers now looking to go omnichannel face an uphill climb. They need to create an app for an online channel, link it to their brick-and-mortar inventory and logistics systems, then spend time and money to convince customers to download it and use it.
If there's any lesson to be learned by US retailers from Alibaba's New Retail model, it's perhaps that the best way to save traditional retail is to simply forget about tradition all together.
For more insights on the future of retail, sign up for Alibaba's Alizila newsletter.
This article was produced by Alibaba Group and not by the Quartz Editorial Staff.