Just as China pledged to uphold religious freedom, China's 70 million Christians are finding it harder to get a copy of the Holy Bible.
Online bookstores in China have pulled the Bible off their shelves in recent days, with searches for the Bible in Chinese on major e-commerce sites including Alibaba's Taobao, JD.com, and Amazon China yielding no results.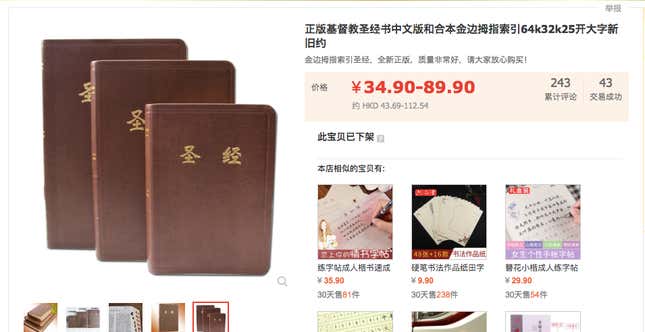 Just this week, the Chinese government pledged to continue to protect religious freedom in a white paper, the first on the matter in more than two decades. However, the document, released by the State Council, said that religions should also adapt themselves to China's socialist society.
A Beijing resident, who asked not to be identified, said that she bought a copy of the Bible on a bookstore on Taobao about a year ago, but that the book was no longer available on the site. When contacted by Quartz, the shop owner said the removal was forced by Taobao, which didn't give a reason. Chinese internet users reported similar cases on microblogging site Weibo and Twitter, with some posting screenshots (link in Chinese) of their chats with bookshop owners who also said they were forced to take the Bible off their shelves.
Chinese state media reported Monday (April 2) that Beijing authorities demanded JD.com (link in Chinese) crack down on "illegal" publications on its platform, without giving more specifics.

The Quran was still available on Taobao, Amazon China, and another online retailer Dangdang, but not on JD.com. The four companies didn't reply immediately to requests for comment.
A Catholic based in Zhejiang province, who asked to remain anonymous, said that he and his church members had bought copies of the Bible from Chinese shopping sites such as Taobao in past years, but that they now have to smuggle them in from Hong Kong. "Now our country is extremely strict about religious control, and you can't buy [the Bible] online," he said.
Despite its pledge to uphold freedom of worship, Beijing has severely tightened its grip over religion in recent years, including passing new regulations in September that among other things bans religious groups from taking foreign funds, and allows authorities to monitor religious content in online chat groups. Over the past years, the government has ramped up its campaign to tear down unauthorized churches across China, and has intensified its crackdown on Muslims, such as by restricting religious education.
For China's Catholic population, any sign of suppression of religious freedom is particularly sensitive, as multiple media outlets have reported that Beijing and the Vatican are nearing a deal over the appointment of bishops. China severed ties with the Holy See in 1951, and has since appointed its own bishops through its official church, which the Vatican prohibits. The Vatican currently has diplomatic ties with Taiwan. Catholics in China are split between those who worship at government-sanctioned churches, where the bishops are appointed by the state, and those who attend secret "underground" churches loyal only to Rome.