A rocket motor shot two Virgin Galactic test pilots past the speed of sound in the latest milestone for Richard Branson's space company.
An early morning test flight saw the VSS Unity, a spacecraft that looks like a small corporate jet, flown 15 kilometers into the air above Mojave, California by its carrier aircraft, the White Knight II. Dropped from the belly of the airplane, the spacecraft fired its rocket motor for thirty seconds and soared 25 kilometers into the sky, breaking the sound barrier but not reaching space. It then glided back to land at Mojave airport.
"We've been working towards this moment for a long time," Virgin Galactic CEO George Whitesides told Quartz in an e-mail.
This is only the fourth time that a spacecraft operated by Virgin Galactic has successfully fired its rocket engine in a test flight. During the previous attempt, in 2014, the first version of the spacecraft was destroyed in an accident that cost the life of test pilot Michael Alsbury. By 2016, the company was able to fly its second spacecraft, VSS Unity, including in a glide test witnessed by Quartz in June 2017.
Virgin Galactic has been working to develop a spacecraft fit for regular suborbital pleasure cruises since Branson licensed the intellectual property behind the X-Prize winning SpaceShipOne in 2004. The company has struggled to perfect the technology and undergone several restructurings, but with this test Virgin Galactic is achingly close to returning to space.
Branson expects the company to move to Las Cruces, New Mexico, this year, where it will offer tourists visiting a spaceport there flights to the edge of the atmosphere for about $250,000 per seat. The flights will last just over two hours, with three to four minutes of weightlessness at the top of the plane's ballistic trajectory.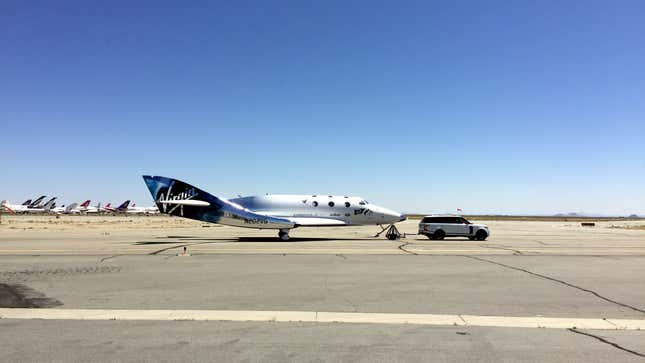 But that timeline remains tenuous. After parsing the data collected on this flight, the company will likely need several more demonstration flights, including a full duration burn of the engine, before it attempts to send its test pilots into space. After that, more experiments may be necessary to ensure safety and reliability. The original SpaceShipTwo was lost eighteen months after its first powered flight. The company is able to move faster now, but many months of work will be required before the Galactic team will be confident enough to fly passengers in their spacecraft.
Still, this is a banner day for the company's employees, who have been working hard to meet their deadlines safely under pressure from new competitors like Jeff Bezos' space company Blue Origin, which has been flying a reusable, vertical take-off and landing rocket that it expects to begin flying space tourists as soon as next year.
Branson has recently financed Virgin Galactic with investments from sovereign wealth funds in the United Arab Emirates and Saudi Arabia, and is mulling the construction of a luxury spaceport outside of Riyadh to bring space tourism to wealthy Middle Eastern passengers. Even more ambitious are hopes that the success of SpaceShipTwo could pave the way for the development of a vehicle that could carry passengers from city to city far faster than any conventional atmospheric plane.