The world is racing to put self-driving cars on the road, and outside the US, no country is moving faster than China. The nation's tech giants and startups are both investing in automotive technology, and Beijing is accelerating that push through policy. In January, China's top economic policy agency called for half of new cars on China's roads to be partially or fully autonomous (link in Chinese) in two years.
But how close is China to this future? Are its self-driving cars ready to deal the chaotic, dense traffic found across its cities?
On a breezy April afternoon, Quartz took a ride in a self-driving Lincoln MKZ on the streets of Guangzhou, a city home to some of the worst traffic congestion on earth. The vehicle was powered by technology from Pony.ai, a Chinese startup founded by two former executives at the self-driving car unit of search giant Baidu. The company is young—it was established in December 2016 and still works out of a co-working space with decor featuring pictures of Facebook's Mark Zuckerberg and Apple founder Steve Jobs. But it's already testing vehicles with level-four autonomy—cars that can drive on their own in all but the most challenging conditions—the same as Waymo, the self-driving unit of Google's parent company Alphabet.
During the test, two engineers were seated at the front of the car—a driver ready to take control if necessary, and an engineer who monitors and records data during the trip. Passengers in the back seat can watch monitors that display what the car senses through a 360-degree lidar mounted on top of the vehicle.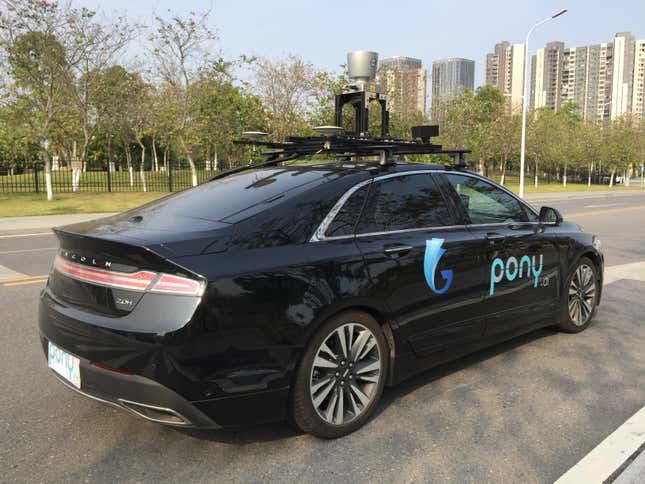 We drove along two routes in a car dubbed Di Lu (的卢), named after a horse owned by the Han dynasty emperor Liu Bei. Liu's horse was said to have saved him from enemy troops (link in Chinese) thanks to its astonishing speed. 
Di Lu lived up to its name. On the first route, a 2.8-kilometer (1.7 miles) loop, the car barreled toward the 50 km/h (31 mph) speed limit as soon as it entered self-driving mode. With few other vehicles on the road, Di Lu changed lanes with ease (in China, cars drive on the right, like in the US). The first time it applied the brakes, it felt pretty much like it would have if handled by an experienced driver. At a traffic light, with a truck in front of it, the car slowed gently before reaching a full stop. Overall, it was a pretty smooth drive, and I didn't feel like the car wasn't controlled by a human driver. 
The second test route—a longer loop, around 3 kilometers, with more traffic—was a bit bumpier. In one instance, on a four-lane road, Di Lu was getting ready to make a left turn, while another car was next to it in the leftmost lane. Just before the turn, that car suddenly cut into Di Lu's lane from the front. Di Lu made a hard brake. Luckily, I was wearing a seatbelt.
Later, a car in front of Di Lu stopped briefly, not unlike how a taxi might stop to drop off a passenger. Di Lu could have passed the car, but instead simply waited behind it. Our driver honked the horn—the first time a human intervened during the session. The stopped car in front of us accelerated, Di Lu moved forward and a bit toward the left, and suddenly a different car passed us from the left, forcing Di Lu to swerve to the right. Our driver reflexively put his hands on the wheel, but Di Lu managed to adjust itself without requiring a full intervention. It wouldn't be an easy task even for a human driver but Di Lu did a good job.
According to Zhang Ning, Pony.ai's chief engineer in Guangzhou, who was in the car with me, passing can be dangerous, so Pony.ai hasn't made the technology, which has been developed, available for public tests yet. During the drive, he often mentioned that "safety first" was most important. When asked if Uber's self-driving car fatality would affect the company's strategy, Zhang said Pony.ai has put its algorithm under severe training and scrutiny. He added that under an emergency situation, the reaction time for Pony.ai's autonomous driving system is around 0.1 second, whereas human reaction time clocks in at between 0.4 to 1.1 seconds (pdf, p.2).
Toward the end of the second route, more cars, motorcycles, and pedestrians filled the streets as rush hour approached. But we were still in a district with fewer cars compared with the city's central area, where navigation is tougher and passing is common. Zhang said that jaywalking and cars going the wrong way are also obstacles to developing autonomous driving tech in China.
Pony.ai wants to install its self-driving technology in municipal taxis in 2019, though the company wouldn't say in which city. It also wouldn't reveal how many self-driven miles its vehicles have accumulated. Waymo, in contrast, has accumulated 4 million self-driven miles.
It's an ambitious goal—and competition awaits from small and giant companies in China. For instance, Baidu has already been testing fleets with its self-driving Apollo system on 33 roads in Beijing, e-commerce giant Alibaba this month announced that it has been developing autonomous driving software and is ready to road test, and ride-hailing giant Didi Chuxing is also in the fray.
Correction: The piece earlier said the car's roof sensor uses radar. It uses lidar.