Vancouver
Before an electrified audience in Vancouver last night, TED curator Chris Anderson unveiled a bold plan to turn its "ideas worth sharing" program into action. Called the Audacious Project, TED's newest venture is an experiment in "collaborative philanthropy." On day one, they've already helped raise $400 million seed funding for five social impact projects.
"In some ways, it's the most ambitious thing TED has been involved with," says Anderson in a press briefing. "This is a serious attempt to do something constructive—to try to create a new way of funding the biggest dreams of the world's biggest changemakers," he explains, sympathizing with the notoriously inefficient and frustrating fundraising cycles in the non-profit sector. "It's inefficient, it's frustrating…most meetings result in nothing happening and most funding come with strings attached," says Anderson.
"To get to effective change, part of it depends on a well-functioning organization. The tragedy is that they're often not allowed to flourish and grow in the non-profit sector," Anderson elaborates. "This is an attempt to identify the effective, wonderful organizations who are focused on a goal that matters and give them a chance to really step up their impact."
Direct support from TED's coterie of influential idealists can save organizations from the onerous RFP process or charity campaigns that often suck the momentum of ambitious philanthropic projects.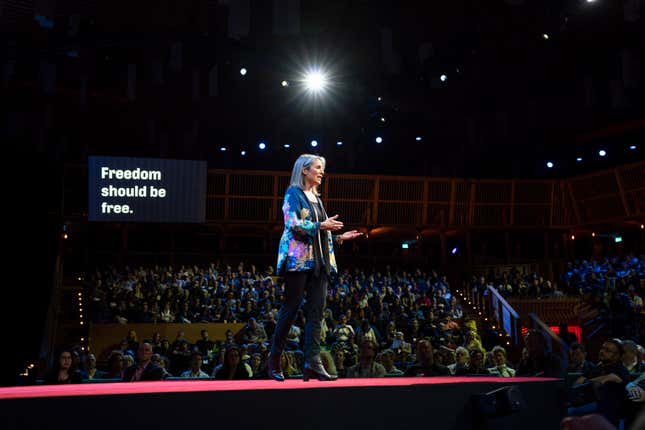 Like an IPO, the Audacious Project offers members of the TED community—elites of tech, finance and entertainment industries who pay upwards of $10,000 to attend the conference—an opportunity to finance or promote a project. Partnering with the Skoll Foundation, Dalio Foundation, Bridgespan Group, and Richard Branson's Virgin Unite, TED plans to make the Audacious Project an annual program, inviting new applicants every April.
True to its name, applicants to the Audacious Project are invited to dream big: They're looking for initiatives with the potential for "massive, global change" affecting at least a million lives, says Anderson. The inaugural roster ranges from the The Bail Project that aspires to establish a national bail fund to eliminate mass incarceration in the US to Sightsavers, a charity working to end preventable blindness globally.
The launch of the Audacious Project boldly was a demonstration about the power of endorsements. The session was introduced by Laurene Powell Jobs, founder of Emerson Collective and co-owner of The Atlantic (Quartz's sister publication). She re-introduced Anderson and project director Anna Verghese who then introduced a high-profile celebrity who gave a filmed introduction to the founder of the winning project. No less than Oprah ushered GirlTrek co-founders of T. Morgan Dixon and Vanessa Garrison to the stage.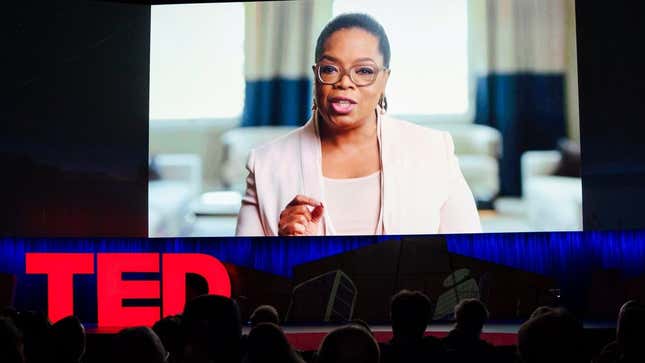 Anderson hopes the radiant effect of recommendations and referrals will also translate into robust funding dollars. The program replaces the TED Prize which gave the one individual a million dollars to fund their wish. Anderson believes that by presenting a menu of social impact projects, more philanthropists will get involved based on the issue they most resonate with.
Perhaps unlike other IPOs, projects selected for the Audacious Project benefit from TED's incredible media reach and global network. Now in its 34-year, TED talks have been viewed 11 billion times. Its vibrant TEDx program manned by volunteer organizers have convened over 23,000 "TED-like" events around the world. Each winner selected for the Audacious Project gets to do a coveted TED talk on the main stage, and benefit from speaker coaching from behind every super polished presentation.