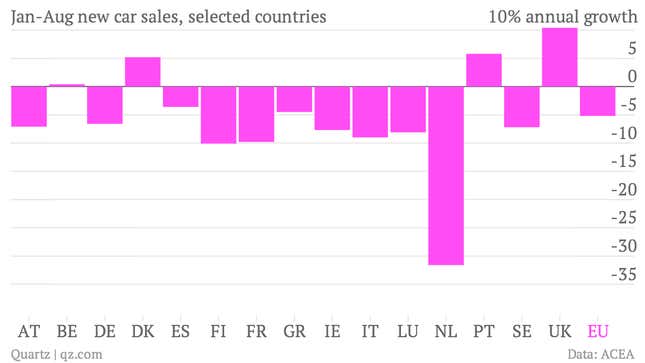 In August, US car sales finally surpassed their pre-crisis levels. The latest numbers from Europe show the region falling behind. Way behind.
New car sales in the European Union fell by 5% in August, and sales so far this year, at 7.8 million units, are the weakest since at least 1990, when records began. Weak economic growth, high unemployment, scarce credit and the rest of the region's economic ills have driven down sales in two-thirds of EU countries, including a 7% slide in Germany, 10% fall in France and a 32% plunge in the Netherlands. The UK, continuing a recent theme, is a rare bright spot, with car sales up by 10% through August.
European carmakers' share prices are falling today, and it's easy to see why. August sales fell by 18% at Peugeot and 11% at Volkswagen. The head of Hyundai Europe sees this as evidence of a "squeezed middle" in the European car market, which is supported by August growth at high-end brands like BMW and Mercedes and budget brands like Mazda and Dacia. The futuristic models unveiled this week at the Frankfurt Auto Show may dazzle, but the reality for carmakers in Europe is grim indeed.