The conventional wisdom for foreign food retailers entering China is to cater to local taste. But at Starbucks, the push to make China its second biggest market centers more on local demand for space.
As part of its effort to accelerate store openings in China, the coffee giant will open its 1,000th store this year. It also just opened a swankier two-story store (pictured above) across the street from the one it closed in June, styled as a "coffee tribute" store.
What does that mean? People in China drink two cups of coffee a year on average and don't like the bitterness (paywall). So Starbucks has focused its attention on selling more of its pricey, localized products—like bacon-gouda sandwiches and red bean frappuccinos—to a wider catch of customers.
The trick to luring those customers, Starbucks has found, is offering a cushy place for casual hobnobbing, as Beijing-based blog thebeijinger.com points out.
"Starbucks invented the 'third place in China,' the default place to go to socialize and conduct business that was neither home nor office," David Wolf, an expert in business in China, told thebeijinger.com. "Chinese in companies commonly refer to Starbucks as the 'public conference room.'"
In Beijing, as in most Chinese cities, there's a yawning gap between fast food and fancier sit-down restaurants, with little in the way of casual but upscale cafes like Starbucks. That makes Starbucks the default place for casual professional meetings, like job interviews, and social encounters, like dates.
Playing into this theme, Starbucks has opened more expansive stores in China that total 3,800 square feet (353 square meters); in the US, stores run around 1,700 to 2,700 square feet. The spaces are usually outfitted more like hotel lounges with plush seats, rather than watering holes with boney wood stools, as is often the case in Western Starbucks.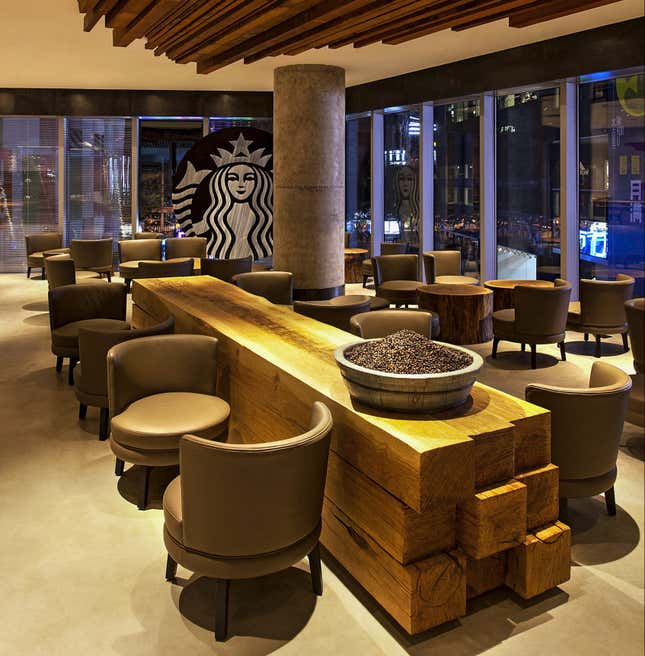 Chinese wanderers dig the vibe, which hopefully leads them to stick around, and buy more products. As David Wolf noted to thebeijinger.com, the spaces function as a "public living room," and 90% of Starbucks patrons in China drink or eat their purchases on-premise.
But converting aimless squatters into paying customers is a costly endeavor. In the China/Asia Pacific category, Starbucks's expenses like rent, coffee beans and other overhead added up to 50% of revenue in Q3, compared with 39% in the US. Labor costs are a worry, too, says Jack Russo, an analyst at Edward Jones. "The cost of doing business in China whether it is rents or labor inflation is likely higher than what we see in other slower-growth countries," he tells Quartz. Many new Starbucks have opened in smaller cities where costs are slightly lower.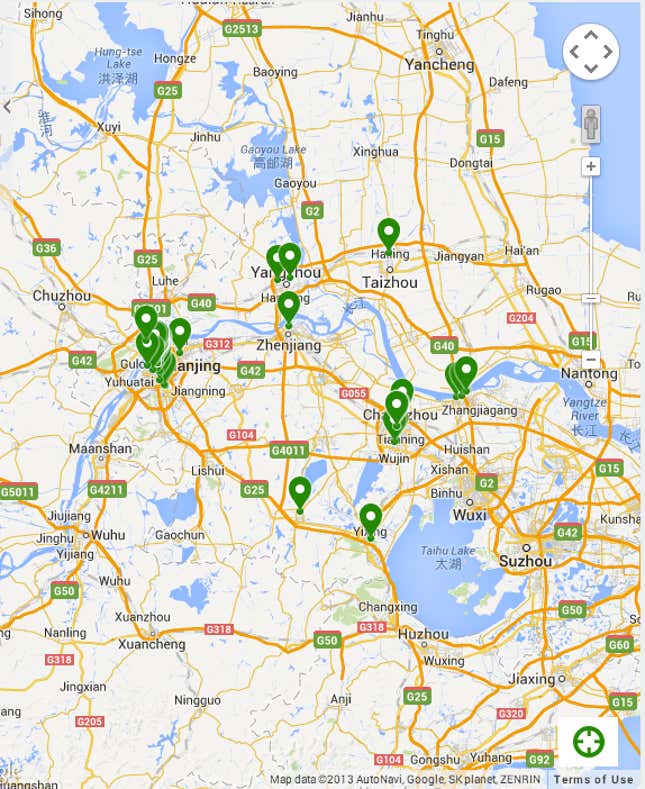 Since the coffee itself is less enticing, Starbucks will have to keep shelling out on velveteen couches to lure more yuppies-in-waiting. "No single Q3 metric exemplifies the success of our strategy more than our 7% increase in global traffic," said the company in its last yearnings call. In China/Asia Pacific, traffic was twice what it was in Q3, driving a 29% increase in revenue for the region, hitting $234 million.