What do a Chinese underwear maker, a port operator and a taxi logistics firm—which have all seen their shares surge on the Shanghai stock exchange over the past month—have in common? They all include "Shanghai" in their company name. According to Bloomberg, since late August publicly-traded firms that include the city in their company name have added a total market value of about $45 billion (more than the value of Vietnam's stock market) and outpaced the Shanghai composite index by nearly five times.
Betting on a new free trade zone recently approved for Shanghai, investors have piled into stocks of companies even nominally related to the zone. The free-trade zone will encompass a 29-square kilometer area on the eastern part of Shanghai's Pudong district. It's meant to be a testing ground for broader economic reforms, which could include increasing the flow of foreign investment to companies in the zone. It will combine three existing Shanghai free trade areas for shipping, advanced manufacturing, and air freight into one. What benefits companies derive from being in the existing free trade zones is unclear. And yet, shares of companies already in one of these zones have soared, including Shanghai Waigaoqiao Free Trade Zone Development Co, which says it will develop and manage new properties for the combined zone. But companies that aren't clearly tied to the zone have rallied, too.
According to Bloomberg, shares in companies like Shanghai Dragon Corp, an underwear maker and a taxi logistics firm, Shanghai Haibo—both of which will be outside the free trade zone—have surged 30% and 55% respectively since Aug. 22, when Chinese officials approved the free-trade zone. Shanghai International Port, a port operator that will be in the zone, has jumped 140% and Shanghai Material Trading, a metals trader, has risen about 25%.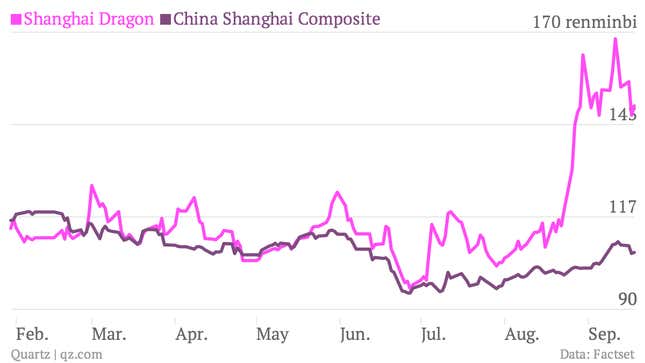 The rally is likely premature. Today, Sept. 18, officials said details of what policies will apply to the zone won't be announced until the end of this year, or next year. Others say any boost in profits for companies related to the zone will take years to materialize. "Successful innovations will ultimately be rolled out nationwide, but probably only after many years. As such, this is an experiment worth watching but not the game-changer some believe," Mark Williams and Qinwei Wang, economists at Capital Economics wrote in a recent report.