China's big three internet giants, Baidu, Tencent, and Alibaba, are battling for supremacy in almost every front of the country's tech space. It's no wonder that the trio, together known as the BAT, have all begun placing bets on blockchain—while making sure to steer clear of ventures that could fall afoul for the country's cryptocurrency trading crackdown.
Blockchain technology relies on a distributed ledger, which means information is encrypted and decentralized on multiple servers, providing a way for transactions to be recorded and shared by a community.  It's the technology behind cryptocurrencies like bitcoin—and also potentially a range of verification uses.
Authorities in China began to crack down on initial coin offerings (ICOs) and crypto trading in September, and subsequently on cryptomining. With that in mind, the BAT firms are flirting with blockchain discreetly, focusing more on the research and development side of the technology, while exploring use cases that aren't likely to attract crypto speculators. Here's what they have done so far.
Baidu
Baidu might be losing its war against Alibaba and Tencent to rule China's internet—its market valuation is now at around $80 billion, far below the $500-billion threshold the other two had surpassed at one stage. But when it comes to blockchain, this is one battle that the search giant still stands a chance to win.
Last week the company launched Totem, an image rights management system based on the technology. The service allows individual photographers or photo agencies to create profiles and claim copyrights to their pictures. It echoes Kodak's blockchain-based system to track photos, called KODAKOne.
Earlier, in February, Baidu launched a blockchain-based pet rearing game called Laici Gou, which is blatantly similar to the popular CryptoKitties. Yes, it's a cats-versus-dogs choice. But another key difference between the duo is that Baidu's offering uses in-game credits that cannot be exchanged for cash, given China's ban on crypto trading. Baidu users can initially get some cryptopuppies and game credits for free, and in the future they'll be able to earn credits via purchasing other Baidu products. In other words, the game largely serves as a marketing tool and loyalty program.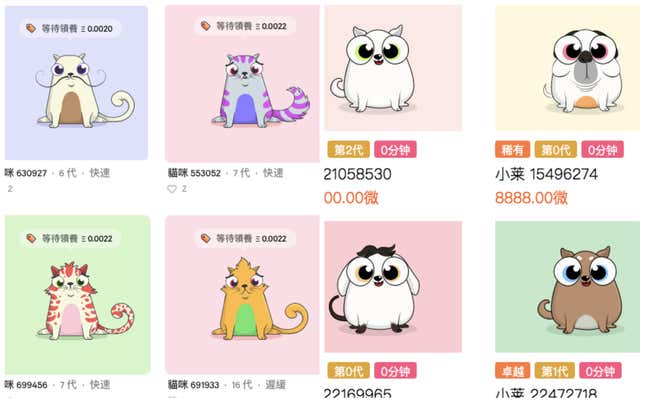 In January, Baidu launched an open platform that allows enterprise developers to build blockchain-based applications in areas from digital billing to bank credit management. Baidu joined the Linux Foundation's open-source Hyperledger project in October 2017. Earlier the same year, it teamed up with two financial firms and issued China's first blockchain-based asset-backed security at the Shanghai stock exchange, worth $60 million. The company has also invested $60 million in Circle, a blockchain-based payment startup in the US.
Alibaba
Alibaba founder Jack Ma has claimed that he's "not shameful" that he is ignorant about bitcoin, but he pays attention to blockchain tech. In fact, Alibaba has the most blockchain patents in the world or any company, thanks to affiliate Ant Financial, the e-payments giant. Last year, Alibaba filed 43 such patents, more than 10% of the total in the world, according to a report by research firm IncoPat (link in Chinese).
Last week Alibaba launched a blockchain-based tracking system for luxury goods sold on its flagship shopping site Tmall, which already uses blockchain in its cross-border supply chain. To combat food fraud, Alibaba's Australian unit is now developing a blockchain platform to track food with partners including global consultancy PwC.
In 2016, Ant Financial unveiled a blockchain-powered charity platform for users of the Alipay wallet app to better track how their donations are used. As of May 2017, more than 600,000 users had donated about $350 million yuan ($56 million) through the platform, according to its former head (link in Chinese).
Tencent
Tencent founder Pony Ma has also said no to cryptocurrencies but yes to the blockchain. "Right now everyone is fixated on digital currency. I think we first need to resolve these problems before blockchain will advance," Ma said during a key political event in Beijing last month, adding he's optimistic about the potential uses for document and identify verification.
Tencent first showed interest in the blockchain in 2016 when its bank subsidiary joined the Financial Blockchain Shenzhen Consortium, one of the first business alliances in China to explore applications of the technology. In 2017, Tencent published a white paper detailing its plans to build a suite of blockchain services on top of an open platform called "TrustSQL," which was launched several months later.
Last week, Ma announced that Tencent has partnered with a southern Chinese city to test a blockchain-powered system that allows local residents to track their medical prescriptions (link in Chinese). Prior to that, the company has already adopted the blockchain in areas from finance to logistics to charity.
Perhaps the most exciting news is that the gaming giant will finally launch its own blockchain game (link in Chinese) on April 23. Tencent didn't reveal what the game will look like, but said it will be more fun to play than the crypto games that are already out there.
Correction: The piece earlier stated Baidu's valuation was $60 billion. In April 2018, Baidu's valuation is around $80 billion.