Philip Morris International, one of the largest tobacco companies, wants to design a smoke-free future. That's a tall order for a company that made its name selling Marlboros.
According to the company's most recent earnings report, the plan is not going swimmingly. Shipments of heated tobacco products—devices that release flavors and nicotine without combustion—have dragged since December. And shipments of cigarettes are down 5.3% from a year ago (paywall). Combined cigarette and heated tobacco shipments are down year-over-year this quarter, too.
The company's tepid earnings report shaved almost 16% off its share value today (April 19), making it Philip Morris's worst trading day in a decade.
Philip Morris has spent $4.5 billion on four new smoke-free products. The iQOS, which the company's website extols as its most advanced smoke-free product, heats but doesn't burn tobacco. It launched in Japan in 2016, and was initially a success. The hand-held device captured 16% of the tobacco market (paywall), pushing smoking rates down, and exciting investors and public health professionals alike.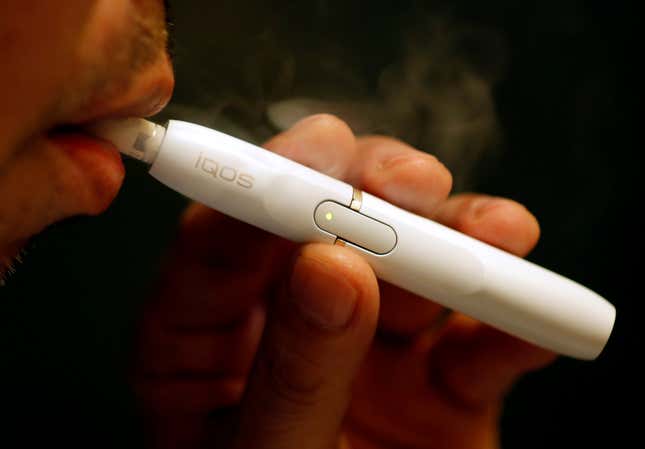 But excitement over the product has since flagged in Japan. "Device sales were slower than our ambitious expectations," the company's chief financial officer, Martin King, said on an earnings call.
King thinks the iQOS already reached the easily adaptable youngsters of Japan. Changing the habits of the age 50-plus smoking population, which make up roughly 40% of adult smokers, is a bigger challenge.
"We are now reaching different socioeconomic strata with more conservative adult smokers who may have slightly slower patterns of adoption," said King.
Still, the company is convinced iQOS and its other smoke-free products will make a comeback. Heated tobacco sales went up in Japan and South Korea, while the sales of traditional cigarettes fell in Japan, Russia, and Saudi Arabia. The company says it remains on track to double global sales of heated tobacco products in the near future.