Major tech platforms are steadily replacing the handgun in their catalog of emojis with a toy gun or squirt gun, following a public outcry over gun violence after a mass school shooting in February.
On April 25, Google released an update for its catalog of emoji that depicted a squirt gun in lieu of a pistol, Emojipedia noted. It's a drastic change from the company's previous emojis depicting guns, which have always resembled real-life firearms.

On the same day, Microsoft also announced that it would change its handgun emoji to resemble a water gun for a future release of Windows 10.
Google and Microsoft's changes follow similar ones from other tech companies. Apple replaced its pistol emoji with a toy gun in 2016, which won the company praise from anti-gun advocacy groups. WhatsApp later followed suit, as did Samsung in February and Twitter earlier this month.
Facebook, meanwhile, tells Emojipedia that it will also switch to a toy squirt gun soon, though it has yet to unveil a design for it.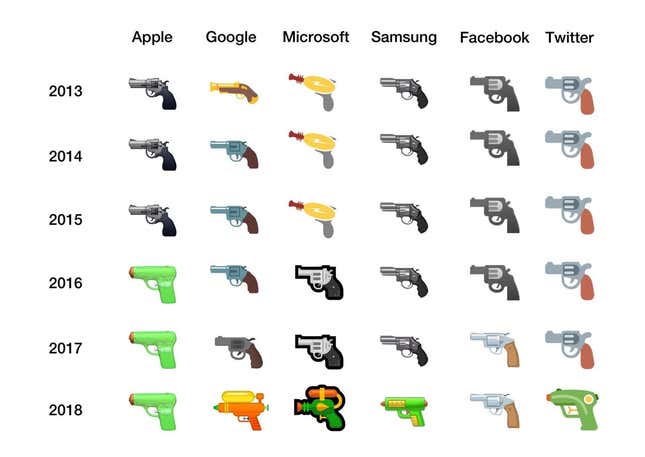 These tech companies have avoided directly naming gun violence as the reason for the change. But it's hard not to see politics playing a major role in their decision-making, after an outpouring of public support for a campaign to change gun laws by survivors of the school shooting in Parkland, Fla.

When Apple switched to a squirt gun in 2016, it did not officially comment on the change but showed the new image alongside new emojis depicting the rainbow flag and female athletes. Twitter's Jack Dorsey has publicly presented himself as aligned with progressive causes but the company told TechCrunch that it changed the emoji for the sake of "consistency."
"We're always evaluating our emoji designs to ensure that messages are displayed consistently across platforms." a Google spokesperson said when asked if their change was related to gun control. Facebook, and Microsoft did not immediately respond to Quartz's requests for comment.
Politics have entered the realm of emojis in other ways, too. In 2015, Apple introduced more racially diverse emojis, which was met with both praise and criticism. Tensions in international affairs can also sometimes roll out into emojis—Apple's iOS does not show the Taiwan flag for Chinese iPhone users, and Samsung once removed its support for an emoji showing two crossed Japanese flags.