Iran's new president, Hassan Rouhani, has been making all the right noises about diplomatic rapprochement: sending his best wishes for the Jewish new year, freeing political prisoners, and sending friendly letters to US president Barack Obama. Now, it seems, the two leaders may have a tête-à-tête at next week's meeting of the UN General Assembly.
This might go counter to the narrative that Western dithering over whether to attack Syria has emboldened Syria's ally Iran and its nuclear ambitions. (It's worth remembering on chemical weapons, at least, Iran sees eye-to-eye with Obama: it really, really doesn't like them after its war with Iraq). Instead, remember that all politics is local—and politics is essentially economics by other means.
Sanctions intended to punish Iran's currency and block its oil exports have been taking their toll on the country's citizens. Just look at how much Iran's currency has devalued in the last year, per the IMF's measurement of purchasing power in Iran versus a basket of other currencies. That's a steep climb!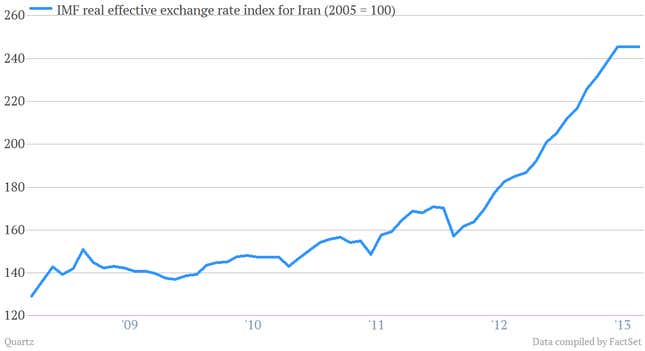 What that means in Iran, however, is high inflation. Even as Iran's economy entered a recession in 2011 and 2012, inflation ran about 20% on the year, and this year, it's trending above 40%—not "hyperinflation," but still a large effective tax on Iranians' cash and investments: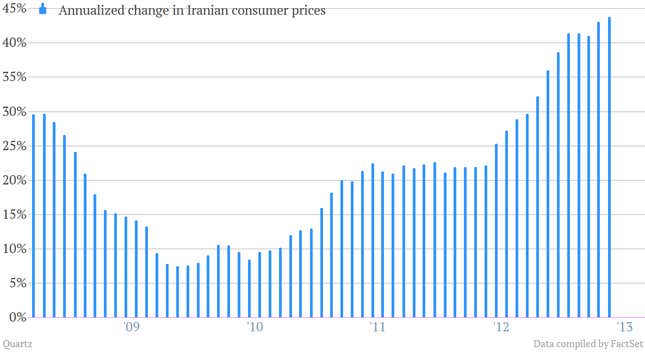 Inflation plus recession ("stagflation") is of course the worst of both worlds, and a key reason Rouhani was elected earlier this summer. On top of the sanctions, ill-advised subsidy programs and bad fiscal management by the previous president, Mahmoud Ahmadinejad, have left a country with a fairly advanced economy limited options. Rouhani promised voters he would tackle Iran's economic problems, including those caused by economic sanctions brought on by stalled non-proliferation negotiations. And even if he's not about to open the gates of the country's nuclear facilities to UN inspectors, he's got a definite incentive to get talks moving and sanctions loosened.