This feels like a game of spot-the-difference.
Snap, the parent company of the messaging app Snapchat, is releasing a second generation of its Spectacles. Snap launched the original model of the wearable camera in September 2016.
Initially they were available only from vending machines called Snapbots that the company randomly installed around the US, and then from a pop-up store in New York. Eventually, they were sold online, but the oversized glasses were a large failure: In October 2017, Snap wrote down $40 million in unsold Spectacles and parts because it wildly overestimated demand.
Now what's different?  A few things: The glasses are now far slimmer on the arms, where the circuitry is housed, so should feel like a pair of glasses instead of a computer on your face. They also come in three slightly shinier colors—black, red, and blue—as well as two shades of lenses. They're waterproof, can take photos as well as videos, and images can be downloaded to your phone far more quickly. But At $150, they cost $20 more than the older model.
Snap plans to sell the glasses online, giving it a far greater ability to track and estimate future demand. People will be able to get a pair when they want them, instead of hoping a Snapbot shows up in their area, or paying a scalper an outrageous markup on eBay. Snap is also working with the online lens company Lensabl to provide prescription lenses for those of us who are not gifted in the vision department.
Parts of the old models will be recycled into the new glasses, according to The Verge, which should make those investors who are wondering what the company is doing with its warehouse of unsold pairs a little happy. It's unclear if these new models are different enough from their predecessors to find a market, especially at the higher cost. Snap told Quartz over email that it sold around 220,000 pairs of its first-generation glasses, and admitted that it had made planning mistakes that it intends to learn from.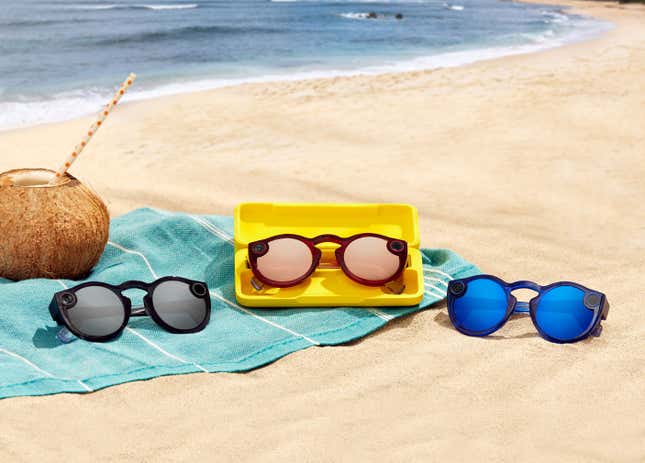 Snap is working on more advanced augmented-reality technology for Snapchat, according to Wired, and it's not difficult to see how it could be applied to wearable technology.
The question remains whether Snap can find a viable business in hardware. Stemming massive losses is tough enough for any company, but Snapchat is constantly in danger of being brushed aside by Facebook and its properties. It announces first-quarter earnings May 1. The market seems vaguely interested in today's announcement, Snap's stock price is trading up about 1%, or $0.20, to $14.50 in pre-market trading.
The new glasses will go on sale today on Spectacles.com, and will be available in the US, Canada, UK, and France. They'll be available next week in many more European countries. Snapchat users will also be able to purchase the glasses directly from the app as well, through the company's recently-launched merchandise store.