Amid pressure from parents and consumer advocacy groups, YouTube is creating a safe, and more selective version of its children's platform.
This week, the Google-owned company is launching an option within YouTube Kids to show only collections of channels that have been curated by humans, not just algorithms, it announced on Wednesday. The feature, listed as "Approved content only" in the platform's profile settings, will feature channels such as Sesame Workshop and PBS Kids that are run by brands parents trust on topics such as arts and crafts, music, sports, and education, the company said. The channels will be chosen by the YouTube Kids team and its partners.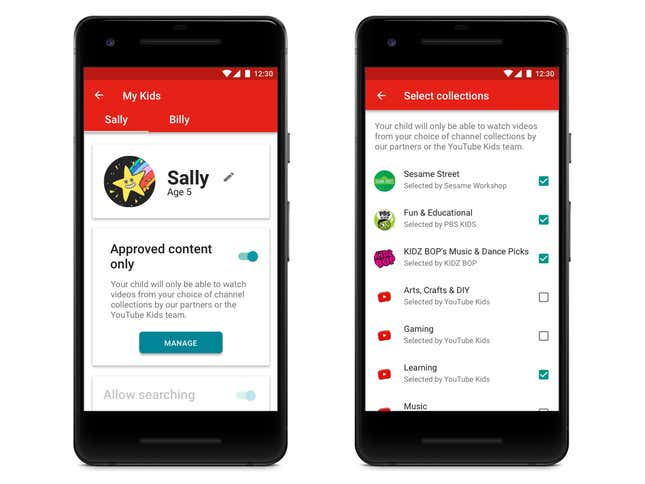 Real people will review "many" of the videos on the channels and approve the channels only if the videos are deemed appropriate and family friendly, YouTube told TechCrunch. Future videos from the approved channels will then be reviewed by algorithms to make sure they continue to be kid safe. YouTube's algorithms will continue to make recommendations for videos to watch among the approved channels.
Later, YouTube Kids will roll out a feature that gives parents complete control over the pool of content their kids can access. They'll be able to handpick every channel and video made available to their children on the platform, the company says. As part of the overhaul, YouTube Kids is also updating its parental control that turns off search within the app, so that those who turn off search will only have access to the channels approved by the YouTube Kids team.
The changes come after troubling and inappropriate videos (paywall), including some featuring popular children's characters, found their way into the YouTube Kids platform last year. Google was also accused of violating US child protection laws on its main YouTube platform earlier this month by a coalition of consumer and child safety groups.
"It is our hope that these additional options will allow every family to have the experience they want in the YouTube Kids app," Google said in the blog post.
A spokesperson for the Campaign for a Commercial-Free Childhood, one of the groups on the April complaint against YouTube, told US News that the new parental controls are steps in the right direction, but that not all parents could be expected to use them. The group said Google should continue to make YouTube Kids safer, and pull all children's content from the main YouTube service.