A small bit of staging reveals a very big difference in how the president of the US relates to two of America's most important allies.
Look at photos from joint press conferences Donald Trump held this week at the White House, first with French president Emmanuel Macron on April 24 and then with German chancellor Angela Merkel today (April 27). Note the contrast in how the podiums are positioned.
With Macron, they were placed very close together. Today, they were several feet farther apart.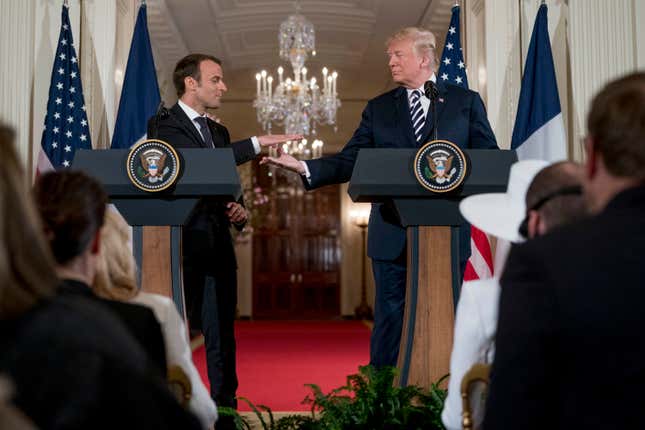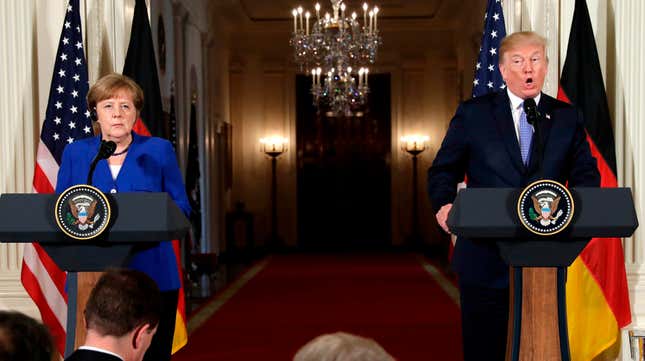 As was seen during Macron's state visit, the French leader is happy to play Trump's game, engaging him in a day-long hand salad of shakes and backrubs.
Markel has opted not to.
She visited without the pageantry of a formal state visit, for a concise day of meetings. She and Trump  exchanged pleasantries, and even a handshake or two. Still, as her body language showed throughout the day, she was far more eager to play the "bad cop" role, as a tonic to Macron's bro down.
The podiums' positioning are now part of that narrative. Macron stood  just another arm grasp away from his American counterpart. Merkel again was kept at distance.