Bo Xilai, the charismatic former member of China's elite Politburo, was sentenced to life in prison on Sunday for bribery, embezzlement and abuse of power, closing one of the most high-profile trials in China's recent history.
Bo, the former chief of the southern city of Chongqing, was found guilty of taking bribes worth 20.4 million yuan ($3.3 million). Corruption is believed to be rampant even at the highest levels of politics in China, and Bo's arrest and trial is widely viewed as part of a power struggle within the upper echelons of the Communist Party.
On Sunday, the court rejected the defense's main arguments that Bo's confession was made under duress and that his wife's testimony should be inadmissible because of mental illness, saying the charges against him had been corroborated by other sources. The court's verdict includes stripping Bo of political power for life, and a suspended death sentence:
Defendant Bo Xilai, for his crimes of bribery, shall be sentenced to life in prison, deprived of political rights for life, and the confiscation of all personal assets. For his crimes of embezzlement, he shall be sentenced to 15 years in prison and confiscation of 1 million Yuan from personal assets. For his crimes of abuse of authority, he shall be sentenced to seven years in prison, a suspended death sentence, deprived of political rights for life, and the confiscation of all personal assets.
The Jinan People's Court verdict was reported on its Sina Weibo microblogging account, continuing a precedent set during Bo's surprising trial, one seemingly designed to show how open the trial was. Undermining its effort to convey transparency, the court's Weibo account had blocked viewers from leaving any comments on Sunday.
In a bit of stage management, the over six-foot-tall Bo was again flanked by super-tall security guards at his sentencing, making him look diminished.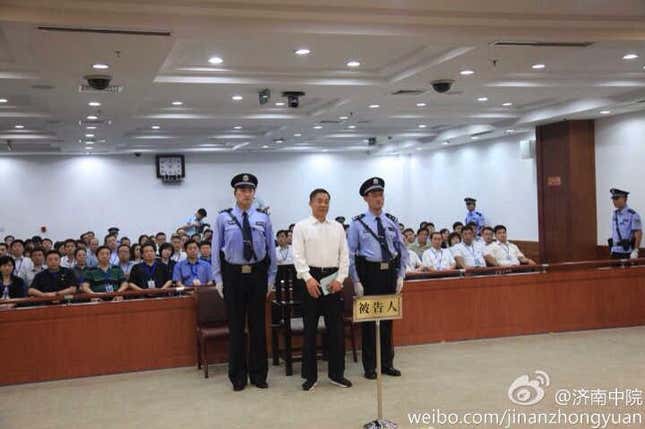 "Political infighting and purges have been hallmarks of the Chinese Communist Party since its earliest days," as ChinaFile notes in this excellent rundown of  Politburo members ousted since the end of the Cultural Revolution, when those purges were supposed to have stopped. Party members convicted of corruption often face long prison sentences or death.
Bo may serve his term in Qincheng prison, which houses a number of formerly high-ranking Party officials, who enjoy perks like milk for breakfast, afternoon television, walks on the grounds and wearing their own clothing, the BBC reports, citing local news reports.
In a letter to his family circulated earlier this week, Bo pledged to return to clear his name, citing his father, politician Bo Yibo, who was jailed several times during and after the Cultural Revolution before returning to power in the 1980s. Bo's mother committed suicide during the Cultural Revolution.
"I will wait quietly in the prison," he wrote, according to the South China Morning Post.  "My father was jailed many times. I will follow his footsteps."
Jennifer Chiu contributed reporting.