When the world ties one on, it doesn't get drunk on whiskey. Or rum. Or vodka. Nope—year after year, Jinro soju, a South Korean rice liquor, tops the Drinks International list of top-selling spirits, as National Public Radio flags. The liquor, which is owned by Hite-Jinro, sold 65.4 million 9-liter cases in 2012 (pdf), an increase of 6%. Sales are more than twice those of the runner up, a brandy called Emperador, which is owned by Alliance Global Group, and more than 2.5 times last year's sales of Smirnoff, a Diageo vodka.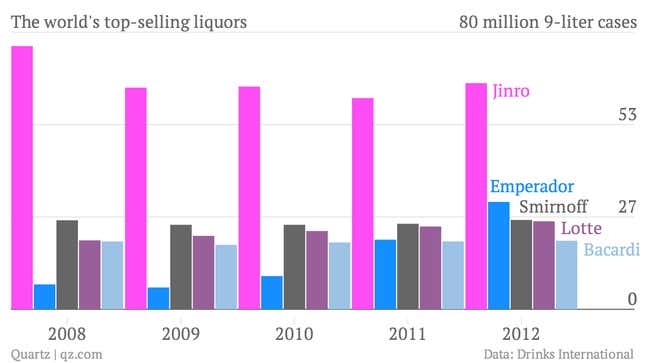 What's so great about soju? It's cheap and low-alcohol. A 25-ounce (750 milliliter) bottle of Jinro costs around $10 in the US.
It's also the favorite liquor of South Korea, the country with the world's biggest per capita alcohol consumption, according to the World Health Organization. The country put back some 3 billion bottles of soju in 2012. That explains a good bit of Jinro's global dominance (it's been #1 for at least the last five years). Even after the South Korean government dropped import tariffs on foreign liquor in 2011, soju still occupied 97% of the market, and Jinro claimed almost half that.
But as you can see in the chart above, Jinro is still down from its pre-global financial crisis high of 76 million cases sold. It's also been giving up market share to Lotta Liquor, its rival in South Korea's soju market, says Drinks International.
That may be part of why Jinro is now intent on breaking into the US, as NPR reports. The company has made it known that it's open to a joint venture with Diageo. But until that happens, its biggest assets is Korean pop star Psy, singer of "Gangnam Style" and avowed soju-lover, whom the company signed as its spokesperson in late 2012. That's led to marketing efforts like this:
Los Angeles looks to be the trial market. Starting in late April, billboards featuring Psy hawking Jinro sprouted up around LA: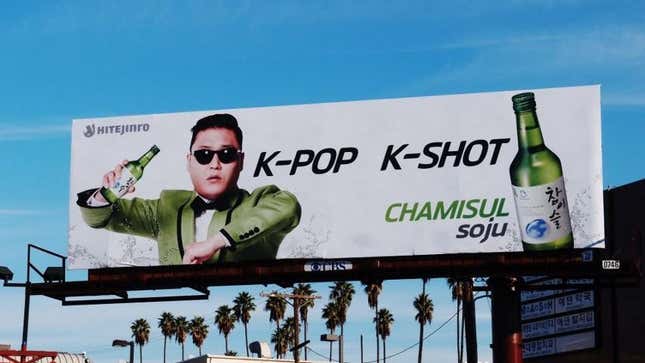 Jinro has also linked up with the Los Angeles Dodgers, a baseball team, which may or may not have anything to do with the Dodgers signing Hyun-jin Ryu, the first-ever player from the Korean Baseball Organization to play in the Major Leagues. Regardless, fans sipped Jinro cocktails at home games throughout the season—and they're proving to be popular fare, considering that the Jinro booth sold out of its original supply within three games of its April debut. (Hite also covered its bases, so to speak,  with a crowd that's more traditionally into beer by rolling out Hite Dodger Beer.)
And that touches on one of its big strengths. Soju's 20% or so alcohol content means restaurants don't need liquor licenses to sell it, even though they can satisfy buzz-hungry customers by simply pouring more of it into a cocktail. But as one bartender on Lost Angeles' Venice Beach, a popular drinking destination, told NPR, it still has to overcome the lack of "soju" recognition.
"Because of our location, you are getting the people that just want to get wasted, that just want a shot of Jameson. And it's hard to say, 'I'm not full liquor [licensed], but I have soju,'" the bartender said. "And it's like, 'What language are you speaking?'"