Everyone loves Eurovision—even scientists. A group of European researchers recently devoted themselves to finding out whether winning the annual televised singing contest could make an entire country happier.
The researchers, Filippos Filippidis and Anthony Laverty of Imperial College London, published their findings on May 10 in the journal BMC Public Health. They surveyed 33 European countries and, using Eurobarometer surveys on life satisfaction as well as national data on suicide rates, found that "every ten-place increase in final ranking was associated with an increase in life satisfaction and a decrease in suicide mortality rates." In other words, a country finishing third instead of 13th was associated with higher life satisfaction and lower suicide mortality rates.
The increase in life satisfaction was small, and the confidence interval for the findings was low. So the study doesn't offer definitive proof that there is an association between how a country performs in Eurovision and how its citizens rate their own happiness. But it does suggest that nations that compete in Eurovision are more likely to be happy than those that don't.
To compete or not to compete
Because the researchers are based in London, they had a unique interest in the UK's Eurovision track record. The UK's rough streak in Eurovision contests of the modern era is the stuff of legends. Although the country was actually a top performer until the 1990s, European millennials have mostly known witnessed abysmal and downright embarrassing performances.
Inspired by the regular humiliation of the UK in Eurovision, Filippidis says that his team looked into whether countries that are poor performers would be better off not participating in the contest at all. They found a more statistically significant result that showed that participating in Eurovision, even if it performed badly, was associated with better life satisfaction than not performing in it at all. The researchers conclude in their report that, "even an abysmal performance would be better than complete absence from the contest, [which] … may be particularly important for the United Kingdom, where a 'Eurovision Brexit' is gaining support in response to the country's consistently terrible performances."
The results are correlative, not causal, so Filippidis could tell me that nations that compete are more likely to be happy than those that don't, but he couldn't tell me why. Still, the fact that the study was conducted in the first place points to an important reality: Europeans love Eurovision because they sense that there's an important tie between the contest and their sense of well-being.
The case for Eurovision
I grew up in France, one of the "Big Five" Eurovision performers (along with Germany, Italy, Spain, and the UK) that automatically qualify to perform in the final every year. That's because those countries make financial contributions to the European Broadcasting Union, which created and broadcasts the contest.
France has won Eurovision five times, but I wasn't alive for any of them. So I don't love Eurovision because of the adrenaline rush of national triumph—in the modern era at least, France has been a mediocre Eurovision player at best.
Rather, I love Eurovision because it is one of the few truly pan-European events in existence. Other than the UEFA European soccer championship, there are precious few times where our supra-national identity as Europeans truly comes out to play, and Eurovision is one of them. William Lee Adams, the famous Eurovision YouTuber and BBC journalist who covers the contest every year, wrote in The New York Times that Eurovision is "live TV on steroids, pumped up even more by a desire to shape one's national story."
Eurovision, one of the longest-running TV shows ever, is watched by 200 million people each year. It's responsible for giving the world music legends like ABBA, Céline Dion, and Riverdance. It started in 1956, after World War II, in Lugano, Switzerland, and the contest's identity is steeped in the post-World War II era, infused with the idealism that led people to believe that music could repair the damage the Nazis has inflicted upon Europe's spirit.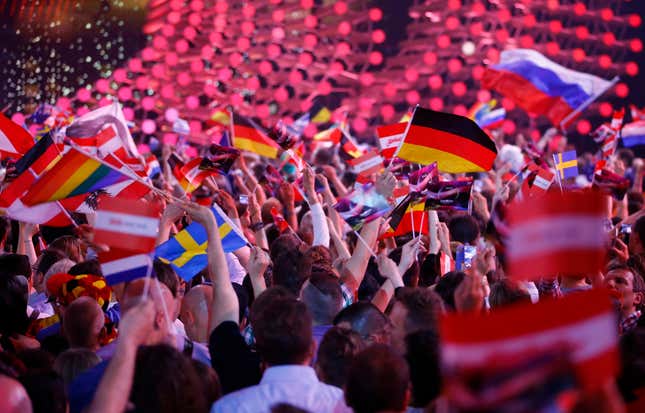 The years since 1956 haven't necessarily been kind to Europe. We've been through wars, a financial crash, and a refugee crisis that changed the continent's demographic makeup forever. But Eurovision has been with us throughout, and its presence has served an as anchor and a reminder of European culture and strength. To quote William Lee Adams again, "this wildly camp singing show has served as a barometer of the anxieties of state broadcasters and artists. It's a safe, eccentric and vast platform to express individualism and political views—even if the rules expressly forbid the latter."
Indeed, Eurovision can't help but reflect the political realities of the countries involved in the competition. During last year's contest, Russia's contestant, Julia Samoylova, was not allowed into Ukraine (where Eurovision was taking place) because of the ongoing conflict over the Russian occupation of Crimea. Angered by the decision, Russia withdrew from the contest rather than send another act or live-stream Samoylova's performance via satellite. In 2015, Armenia used Eurovision to mark the centennial of the Armenian genocide—the massacre of 1.5 million Armenians by the Ottoman Empire that is recognized as genocide by most historians, but is disputed by Turkey and Azerbaijan—by sending a group made up of Armenians from across five continents to perform.
Eurovision is also a notorious platform for LGBTQ rights. In 2015, a bearded Austrian drag queen named Conchita Wurst emerged victorious, and 20 years ago, a transsexual woman named Dana International made history by winning Eurovision for Israel. In fact, Eurovision is often referred to as "the gay Olympics." Amidst the waving national flags in the crowd, it's always easy to spot many rainbow banners.
I am not naive enough to believe that the power of music can transcend historical hatred and geopolitical tensions. But for one weekend every year, I get to feel truly European. I cheer for France and, when we inevitably lose, I can cheer for Sweden, or Ukraine, or Portugal, and end the night genuinely proud of whichever country won. The very act of having my country participate in the competition, and watching the European spirit translate itself into music, makes me happy every year. Two researchers at Imperial College London might not be able to conclusively prove that the competition makes people happier. But based on my strictly non-scientific and purely anecdotal evidence, I can tell you that it's true.