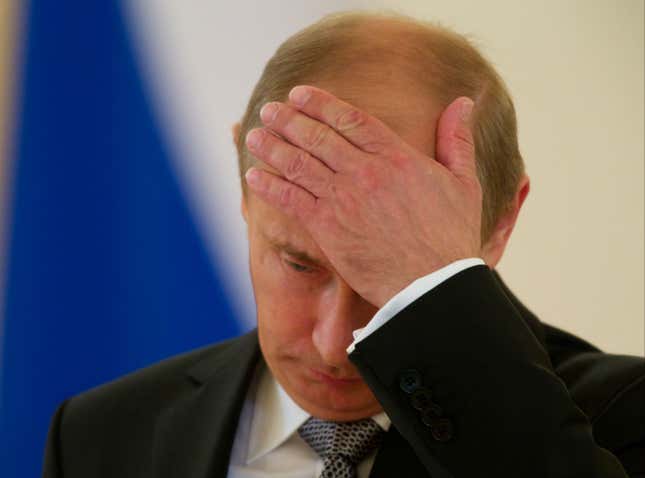 Russian President Vladimir Putin has spent the last dozen years wresting away the assets of foreign oil companies, and squeezing their ability to export. Now, though, he faces one of the most uncertain periods in Russia's turbulent post-Soviet history, and he may reverse course and allow foreign companies to directly license oil and gas fields in the prized Arctic Sea. If the idea goes ahead, foreign companies would directly "book" Russian reserves instead of having to go through intermediaries, a big step in normalizing business in the country.
The Financial Times' Guy Chazan is the first to report the possible about-face. The disclosure came in an interview with Russian Energy Minister Alexander Novak.
Currently, only Russian state-controlled companies such as Gazprom and Rosneft can own licenses on the Arctic. When Putin has signed deals, the roundabout arrangement has been for them to buy stakes in a joint-venture company that indirectly holds the license. This approach appears to have been followed in recent Arctic deals signed with ExxonMobil, Italy's Eni and Norway's Statoil. While out of whack with much of the rest of the world, it aligns with Putin's publicly stated policy of treating oil and gas as strategic state assets not to be trifled with by foreigners.
Foreign oil companies have signed these deals despite years of mistreatment. In 2006, Russia pushed Shell to relinquish a majority stake in a field called Sakhalin-2 at a firesale price, and canceled a $3 billion partnership with France's Total at the Vankor oilfield. For several years, Moscow has repudiated an agreement allowing ExxonMobil to freely export natural gas from its Sakhalin I project, forcing the company to sell at cut-rate prices within Russia.
What Novak was suggesting would be a radical departure. But it is perhaps understandable given Russia's circumstances. Oil and gas exports support some 60% of the state budget. But European natural gas consumption—Russia's primary market—is falling, while China has so far been unwilling to pay Russia's demanded price for diverting gas its way. The country produces some 10.4 million barrels of oil a day, but the Arctic must be developed if that is to continue: by 2030, the country foresees 25%-30% of its oil coming from offshore fields, primarily those in the Arctic Circle. Currently, no oil is produced in Russia's sector of the sea, and the country lacks the expertise and financial brawn to take on such massive work. Hence, it needs the mostly western giants.
"Booking" reserves refers to required reports to regulators such as the US Securities and Exchange Commission covering how much producible oil and gas a company owns. On Wall Street, such reserves are a key measure of a company's value. But Russia has been a difficult place to negotiate the right to control reserves.
For example, Statoil and Total did not manage to arrange a deal allowing them to book reserves from Shtokman, the gigantic Arctic natural gas field, Bernstein Research's Oswald Clint told me in an email exchange. In July, Statoil pulled out of the field. The following month Gazprom put it on indefinite hold, saying costs were too high.
The arrangement suggested by Novak "means booking reserves, which is what the companies want," Clint says.