If you've used any of the popular smart speakers released in the last few years, you've probably noticed that they all—pretty much—look like miniature trash cans. The Amazon Echo, Google Home, Sonos One, and Apple HomePod, are all, for the most part, great devices that are best kept hidden on a shelf, away from the center of attention. Samsung's latest speaker wants to change this.
Teased at January's Consumer Electronics Show in Las Vegas, Samsung's VL350 and VL550 wireless speakers look about as good as they sound. Samsung has its fair share of expensive and oddly tubular speakers as well, but these new models are for consumers who want something a little more refined to put on display.
The devices sport powerful AKG-tuned speakers (Samsung acquired AKG, a subsidiary of audio company Harman, when it bought Harman in 2016), as well as mock-wood paneling on the sides that looks straight out of a 1970s hi-fi setup. Both speakers also have a unique control mechanism: a weighty magnetic dial that sits atop the speaker, but can be pulled off the top and placed away from the speaker. You can use it to control the music being played, or if the speaker is connected over Bluetooth to a phone, it can also control the voice assistant built into the phone. The interaction is a bit clunkier and slower than the voice recognition built into other speakers, but then again, if you just want to ask a disembodied voice what the weather is, there are $50 roundels out there you can buy. And unlike most other speakers, you don't have to scream above the music to talk to the voice assistant, as the VL's remote has its own microphone that relays your commands back to the speaker, allowing you to talk at a normal level to the dial right in front of you.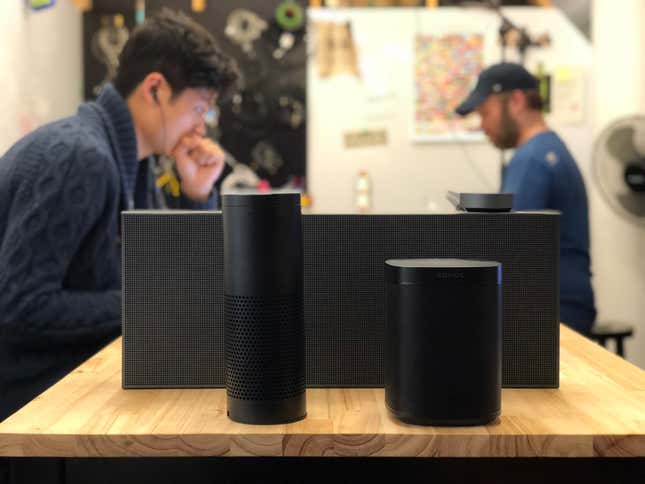 The detachable remote, which seems to take its design cues from Microsoft's desktop controller, is more refined than the average stereo clicker. And the larger VL550, roughly the size of an old VHS player, packs a sound punch that should fill up a decently-sized living room. The smaller VL350, which Quartz didn't review, is roughly about half as wide.
Samsung's new speakers are likely to appeal to more design-oriented folks who want something more impressive to listen to Spotify or their own digital music collections. But design consideration apparently comes at quite a steep cost. The VL350 will cost you $250, and the VL550 $400, when they are released in two weeks. If sound quality is as important as design, however, there's not much else at the price. In terms of sound quality and features, Samsung's speakers would likely be going up against higher-end smart speakers, like the Google Home Max or the HomePod, which cost $400 and $350 respectively. While it isn't quite as simple to use voice assistants on the VL550—it's just amplifying the assistant that's in your connected device—at least the speaker isn't something that would only look appropriate in the retro futuristic living room of The Jetsons.