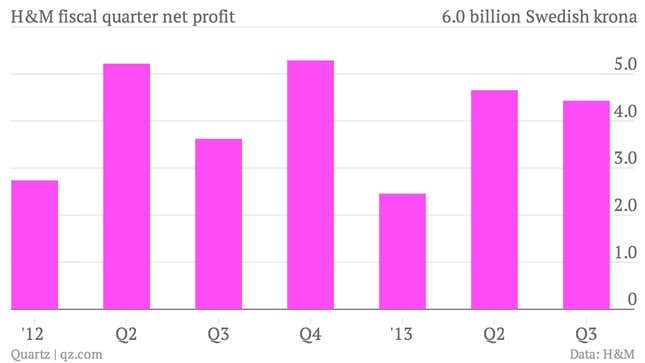 The numbers: Better than expected. Net profit rose by 22% in its latest quarter, covering the three months to August. Coming shortly after larger Spanish rival Zara reported flat earnings over a similar period, investors rewarded H&M's perkier results by pushing its share price up by more than 6% to reach all-time highs.
The takeaway: Aggressive expansion is paying off for H&M, which recently opened its 3,000th store (in China, of course). It aims to boost the number of stores by 10-15% per year, with a particular emphasis outside of Western Europe. The latest quarterly results show why: in local currencies, sales rose by 72% in Turkey, 48% in South Korea and 37% in China. In the first nine months of its fiscal year, H&M's operating margin in Asia was more than ten times higher than in Europe.
What's interesting: Although H&M, like most retailers, is focused on expanding in emerging markets, its latest results in Europe showed encouraging signs of life. Quarterly sales were up by 16% in Greece, of all places. H&M offered fewer markdowns on items in its core European markets, which boosted the company's overall gross margin to 58.8%, well above analysts' expectations. It also marked the first annual rise in this measure for three years, which is cited as the main reason the company's shares shot up today. H&M said it is keen to expand its upmarket brands like "& Other Stories" and COS in Europe, squeezing more profits from saturated markets with clothes that are less disposable than the ones the retailer is otherwise known for.