Starting May 24, if you're curious about how many ads on Facebook and Instagram mention "the second amendment" (220 since the beginning of May), "fake news" (287, with 284 from Donald Trump's official page), or "Hillary Clinton" (18), you can find out by searching a new archive built by the company.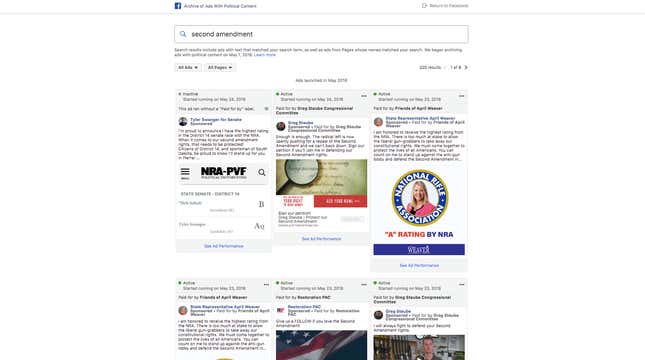 Just in time for the US's 2018 midterm-election season, Facebook has rolled out ad transparency tools it created in response to revelations that Russian agents bought thousands of ads on its platform to sow division in the US ahead of the 2016 presidential vote. Every ad that either mentions a candidate in a specific race, or talks about an issue that Facebook has defined as political, will from now on be labeled as "Paid for by," informing the user who purchased it.
All of these ads can also be found in the searchable archive, where each one will remain for seven years, to accommodate a full US Senate cycle of six years. Currently, the archive features US political ads since May 7, and will fill up as new ads are posted to the site. Facebook said the tool would be rolled out for elections in other countries, but didn't specify when.
The archive shows you the ads, their cost, and their reach, which is broken down by basic demographic information that includes gender, location, and age. You can search it by keyword or candidate, although not by where the ad was shown. When asked about this during a call with reporters on Thursday (May 24), Facebook's representatives said that the archive is a work in progress, and they are waiting to hear feedback from users before making further updates.
You also can't see how the ads were targeted by the organization that paid for them, which would provide useful information on how political dollars are spent to influence specific interest groups. Seeing the demographic breakdown of the actual audience "offers more transparency than the actual intent," Rob Leathern, director of product management at Facebook, argued during the call. 
When you look through the archive, you'll find that many of the ads are paid for by shadowy Political Action Committees (PACs), which can donate an unlimited amount of money to political candidates. But to know more about who is behind these groups, you'd have to do the research yourself.
Facebook has started verifying the location and identity of advertisers who want to post political content on the site. The company is hiring 3,000 to 4,000 new content moderators to review these ads.
What counts as a political ad on Facebook?
In cooperation with the Comparative Agendas Project, which tracks policymaking around the world, Facebook has defined a list of the issues that it deems political. Katie Harbath, director of global politics and government outreach at Facebook, said during the call that pinpointing which issues fit this definition will be a "living, breathing process." Here's the list so far:
Abortion
Budget
Civil rights
Crime
Economy
Education
Energy
Environment
Foreign policy
Government reform
Guns
Health
Immigration
Infrastructure
Military
Poverty
Social security
Taxes
Terrorism
Values (asked by CNN, the company said that by "values" they mean "issues that discuss the values used in determining societal standards, such as patriotism.")