Going for a smoke at Japan's health ministry building just got a little bit harder.
To mark the United Nations's World No Tobacco Day yesterday (May 31), the ministry decided to get rid of (link in Japanese) its final cigarette vending machine in its Tokyo headquarters. The building was described in a Wall Street Journal article last year (paywall) as being a "haven for smokers" and a "popular spot for some officials taking an afternoon break."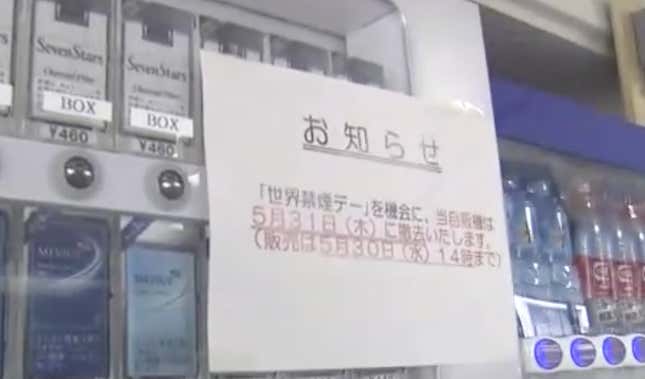 Japan's tolerance for smoking is unusual among developed nations, while its refusal to outright ban smoking indoors makes it a conspicuous outlier even among poorer countries with higher rates of smoking, such as China. It's estimated that about 15,000 people die each year from passive, or second-hand, smoking in Japan.
The government has been slow to spearhead legislation against smoking in public, as it derives a large amount of tax revenue from its one-third stake in Japan Tobacco, the country's largest tobacco company. Attempts to ban indoor smoking have also come up against stiff resistance from restaurant and bar owners who complain that such a ban would hurt their businesses.
However, Japan's acceptance of smoking has been coming under increasing scrutiny as it prepares to host the Olympics in 2020. In recent years, there have been iterative attempts to ban indoor smoking that fall short of a total ban—for example, by restricting the ban to establishments of a certain size. In March, the government approved a bill that would ban smoking inside all government buildings, schools, and hospitals. Under the bill, people would be able to smoke in designated smoking rooms in restaurants, hotels, and workplaces, but it makes an exception letting individuals smoke inside their hotel rooms. Restaurants with floor space of up to 100 square meters would be excluded from the ban, revised from an earlier proposal to limit the size to 30 sq m. That means some 55% of restaurants would still be open to smokers.
The Tokyo metropolitan government in April presented a tougher version of the bill, which plans to prohibit smoking at 84% of all eateries and bars in the capital regardless of size (although the Tokyo governor had earlier backtracked on a promise to have a smoke-free Olympics). The bill will be submitted during a metropolitan assembly session this month.
In any case, smoking is slowly but surely on the wane in Japan. The latest survey by Japan Tobacco puts the proportion of men who smoke in Japan at 28% of the population in 2017, compared with 16% in the US, though Japan's figure has fallen by half since 1997. Japan Tobacco, meanwhile, is shifting its focus to the electronic market (paywall) in response to plummeting interest in conventional cigarettes. Still, for any visitor attending the Olympics in 2020—or an average Japanese citizen concerned about passive smoking—it's disappointing that an outright ban on public smoking remains so elusive.