Pedro Sánchez has taken over as prime minister of Spain, after Mariano Rajoy was ousted following a no-confidence vote in parliament. When Rajoy admitted defeat, he told politicians that it was "an honor to leave a better Spain than I found."
Sánchez, whose nickname locally is "Mr. Handsome," filed the motion to force Rajoy out of office, after the then-prime minister's conservative Popular Party (PP) was embroiled in a corruption scandal. Sánchez accused Rajoy of failing to take responsibility for his party's problems. He managed to rally support to oust Rajoy across several parties, including Catalan separatists and Basque nationalists.
In the end, 180 members of Spain's parliament backed the motion versus 169 who voted against it. Only one MP abstained from the vote. The Spanish constitution states that the party which presents a no-confidence motion must be prepared to govern.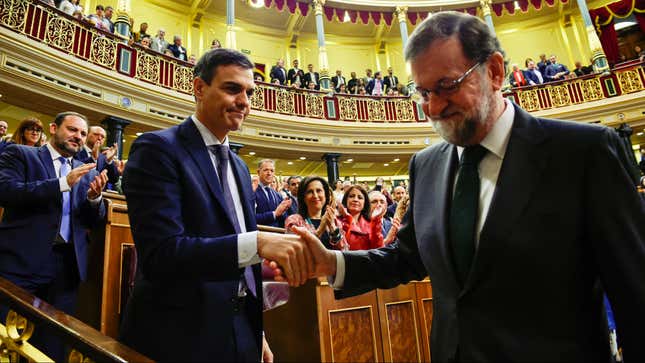 While Rajoy, who became prime minister in 2011, has been on Spain's political scene for over a decade, Sánchez was relatively unknown until 2014, when he became the leader of the Spanish Socialist party. He's a former economist and former basketball player who won over members with a pledge to put the Socialists back in power.
Although he is now prime minister, Sánchez's party commands less than 25% of seats in parliament.