If you were a Western child born in the 1980s or early 1990s, you probably ran home after school to chat with your friends (who you literally were just talking to in person) on AOL Instant Messenger, or MSN Messenger, depending on your locale. Both were great at letting users know when their friends were online, and letting them write status updates, which were supposed to say where they were, but were usually just emo band lyrics *~iN WeiRD cASiNg~*.
But then, as Facebook said in its recent non-apology video, something happened. The way we communicated on the internet shifted wildly with the advent of social media. Messaging became more asynchronous, where we drop texts, posts, tweets, and other digital breadcrumbs without knowing when or if our friends and followers will even see them. But for millions of teenagers, that old messaging experience is returning.
Houseparty, a video-calling mobile app born out of the ashes of live-video streaming service Meerkat, launched in late 2016. The company says it now has over 20 million users, the majority of whom are young, many of high-school age. Users spend an average of 51 minutes per day chatting with their friends, Houseparty says, either in groups or one-to-one, through the app, which alerts users when their friends log on. The company says users have asked for a way to do other things while chatting, as using the app takes over the entire phone.
Its latest update should address that by taking the app beyond the phone. Today, June 4, Houseparty is rolling out a Mac version of its app, at Apple's WWDC developer conference in California. It's the company's first product since its original app.
The mobile app, which opens to a camera screen, feels similar to many mobile-chat apps like Snapchat, where the goal is to broadcast yourself to a select group. The desktop app looks a lot more like AIM in its heyday. It's a small window with a list of your friends (the average user has 21, Houseparty tells me), a flag indicating whether they're online, and the ability to wave at them and start a video conversation.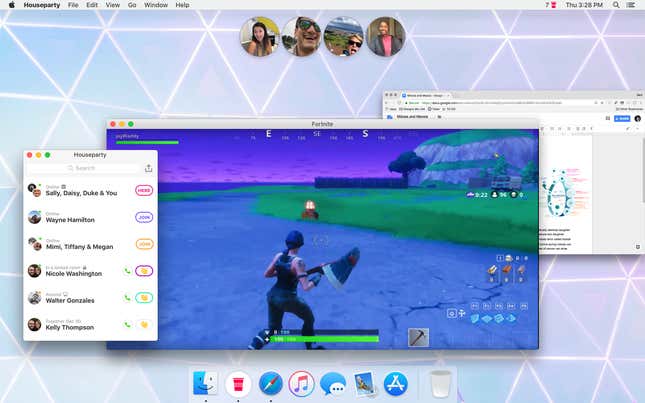 Houseparty told Quartz that it's rolling out a Mac app rather than a Windows or web app because it was relatively simple to port the code from its iOS app to the Mac. Additionally, a high proportion of its app users are iPhone owners, and many also have Mac computers.
Like the mobile app, users can spontaneously start video conversations with any of their friends who are marked as online (those friends can decline—there's no creeping on people's webcams without their permission, unlike some other services). But the desktop app won't notify users every time one of their friends logs in, as the constant in-and-out of friends would likely prove distracting on a computer. And anyone who used AIM in its heyday will remember how annoying those creaking door and slamming notification sounds got whenever someone logged on or off.
Users can have conservations with up to eight people at once. In video chats (which Houseparty calls "parties") friends appear as small bubbles that float on top of any other open apps. Clicking on the bubbles will pull up a larger window that feels more like a traditional video call.
Although Houseparty isn't marketing it as a work tool, the company said the Mac version has changed its workflow. There's no need to set up Skype meetings or send out video-call links for quick chats—teammates can quickly just pop over to Houseparty to see who's online and chat. Just like AIM back in the day.
Houseparty faces competition from other video services, like Apple's FaceTime, and even Snapchat, but it said it believes its differentiating factor is being the social network that connects small groups of friends face-to-face, when they're around and looking to hang out. Social media definitely has had an impact on the mental health of today's youth, and there's been somewhat of a backlash among younger users against apps like Facebook in recent years. Perhaps something simpler, more personal, is the way forward.