Private equity giant Kohlberg Kravis Roberts is on a roll in China. Last week, it bet $140 million on China's booming dairy consumption. Today, it bought a 10% stake in Qingdao Haier, the listed arm of China's biggest maker of home appliances, for an estimated $556 million.
Unlike with its dairy investment, KKR probably isn't betting on the rising Chinese consumer. It's betting on the buying habits of Brits, Americans and New Zealanders.
Tapping those markets has long dogged Haier, which already dominates in China; Haier claims 27.2% of the appliance market there, reports the Wall Street Journal (paywall), compared with the 13.5% of runner up Midea Holdings. Its high-quality brand already commands a premium there.
But as with most big Chinese brands, Haier has a weaker brand identity overseas. Last year, it brought in $1.4 billion—11% of its total sales—from outside of China. That's not bad. And at 9.6%, Haier's global market share ties with that of Whirlpool, says the WSJ.
But even as Haier has broken into global markets, its margins suggest that the bulk of those sales are in emerging markets like India or Pakistan, where prices are much lower than those in, say, Canada. As you can see, its gross margins on overseas sales pale in comparison to those in China, and to Whirlpool's: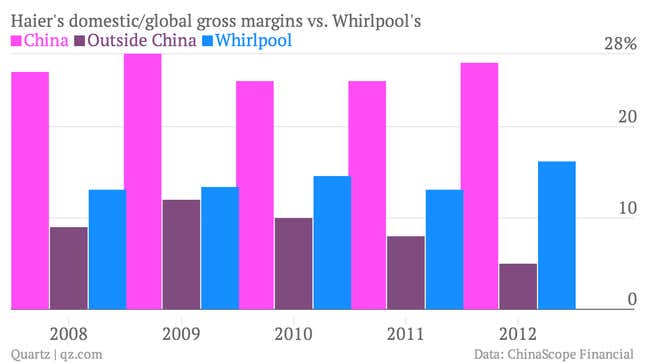 Haier has been laboriously pushing for global growth for over a decade. The $40 million manufacturing plant it opened in Camden, South Carolina helped boost sales, but failed to do much for margins.
Haier's products aren't shoddy, unreliable knockoffs. The company has pioneered things like wireless TVs and dazzled consumer research groups with its digital French Door refrigerators. It's also a powerhouse in wine-chilling technology.
And yet, wealthy consumers are unwilling to pay the same premiums for Haier that they shell out for Western and Japanese brands. The company has taken note by eyeing purchases of Western firms with global cachet. In 2005, it bid for Maytag but lost to Whirlpool. Haier is on the hunt again now that global demand has recovered from the financial crisis; it bought New Zealand-based Fisher & Paykel Appliances last year for $768 million, after snapping up Sanyo Electric's household appliance unit in 2011.
The acquisitions may help Haier boost its brand by tapping those companies' sales channels in Western markets. Haier could also adapt those companies' technology to its own products. Eventually, Western consumers might just come along. Evidently KKR thinks they will.