Elon Musk is exceptional at creating a few handbuilt, expensive things that go fast.
Tesla started off building the Roadster, an electric supercar built on a Lotus chassis, assembled by hand in Britain and California. Tesla's next two cars, the Model S and Model X, were built in a proper factory yet not much less bespoke, at least initially. The CEO's hands-on design meant multiple iterations to remold manufacturing, not to mention supplier issues, ill-fitting falcon-wing doors and other snafus. This "production hell" continued until Tesla finally churned out about 103,000 cars in 2017—the same number Toyota produces (pdf) each week.
The ultimate expression of this approach is Space Exploration Technologies, or SpaceX. Musk's space company launches re-useable metal tubes packed with explosives into space. Soaring hangars at the company's Hawthorne, California facility house hundreds of workers and robots who carefully piece together the space-age materials that will eventually become a multi-million-dollar rocket. There is still no such thing as a mass-produced rocket.
Now Musk finds himself in a unique situation with Tesla. The electric carmaker must produce hundreds of thousands of the exact same product, nearly perfectly. It's not a discipline he's mastered before (his first two companies, Zip2 and what became PayPal, were both internet service startups). Nor is it a natural fit for someone who starts new companies in his spare time (seven, at last count) and dreams of retiring on Mars.
Some investors have hitched their star to the idea that each company's success helps the other. And Tesla has the good fortune to share in the afterglow of SpaceX.
Why investors remain optimistic about Tesla
Automobile mass-production is a grueling exercise in optimizing the factory floor with methodical precision that resists improvisation. Mistakes that are fixable when making a few thousand cars become nearly impossible to remedy when mass producing hundreds of thousands. Musk's unscripted moves in manufacturing electric vehicles, while achieving what others deemed impossible, have cost Tesla dearly.
Multiple executives responsible for manufacturing have left the company, and millions of dollars have been spent tearing out malfunctioning equipment and redoing assembly lines. In May, six cargo planes packed with robots and manufacturing equipment lifted off from Germany, destined for Tesla's Fremont, California plant. The airlift, an almost unprecedented (and expensive) move for the auto industry, delivered equipment to clear bottlenecks in Tesla's battery and Model 3 production. The Wall Street firm Bernstein Research estimates Tesla has spent over twice the amount of a typical auto manufacturer per unit of installed capacity, citing $2 billion in recent facility investments and redesigns. "As usual with Tesla, everything is being done in a massive hurry and money seems to be no obstacle," one source told Reuters.
Still, Wall Street has not lost its faith in the company. While Tesla remains the most shorted stock in the US (with $10.7 billion in shares shorted as of April), its share price has remained buoyant rising 2% in 2018 despite lagging Model 3 production.
Why are investors willing to shovel ever more money into Musk's cash inferno? One reason is Musk's star wattage. That "key man" argument is a disclosure on SEC filings for Tesla. But many investors have also had their heads turned by that other Musk creation: SpaceX.
The soaring fortunes of the space company have bought incalculable goodwill for Tesla. Its greatest public relations coup, perhaps in the history of such things, was the February launch of a cherry-red Tesla Roadster atop SpaceX's Falcon Heavy, the world's most powerful operational rocket. It featured in the second most popular YouTube livestream of all time, attracting 2.3 million views.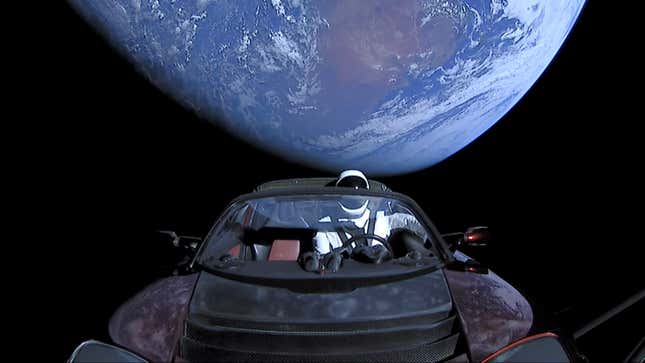 As a result, Wall Street may be overlooking sins that would fell other companies. Catherine Wood, CEO of ARK investment management, told CNBC that the feat reaffirmed her confidence in the company. "We think that if Elon Musk, if SpaceX, and can do what they did yesterday in space, they're gonna be able to produce the Model 3," Wood said after the launch. Morgan Stanley touted the "compelling relationship" between Tesla and SpaceX last December, hypothesizing about synergies in technology (satellite broadband, radio), finances, talent, and, of course, Musk himself.
Barclays investment bank chided bullish investors for focusing on the Roadster-in-space imagery and Tesla's promises of profit, rather than examining actual performance with its investor update, "Don't look at the quarter, look at the car in space." Its preceding update was, "Burning cash like rocket fuel."
But Musk is happy to enwreath Tesla with SpaceX's halo. On a Feb. 7 earnings call, he argued that Model 3 manufacturing woes could be overcome because of feats achieved by SpaceX. "People think that if we can send a Roadster to the asteroid belt, we can probably solve Model 3 production," he said according to a transcript from Sentieo. "It's just a matter of time…and really the error bars on the timing are really quite small in the grand scheme of things."
Does SpaceX really make Tesla a safer bet?
The case for believing Musk is two-fold.
First, SpaceX's success spills over to Tesla. Tesla houses its design studio at the Los Angeles headquarters of SpaceX (where Musk serves as CEO and lead designer), shares a company plane and recently announced a high-performance "SpaceX option package" for its new Roadster. SpaceX even bought solar bonds from SolarCity before Tesla's 2016 acquisition, when few other proved willing.
"There's cross-fertilization of knowledge from the rocket and spacecraft history to auto back and forth is—I think has really been quite valuable," Musk said in a call with investors last year, according to Sentieo. "It's something that's been very valuable for me in thinking about how do we make mass-optimized vehicles, because in space, mass optimization is extremely important." In one example, Jonathan McNeill—Tesla's former president of global sales, who is  now at Lyft—said SpaceX engineers helped design an ultrasound sensor test for metal objects inside Tesla vehicles, supposedly saving eight hours of assembly line work per car, during a 2017 investor call.
The second reason: the complementary economics between the two ventures. Both companies, in theory, can capitalize on being first to market with groundbreaking technology. For SpaceX, the prize is a lucrative franchise launching cheap re-useable flights into orbit (medium term) and ferrying civilization to Mars (long term). For Tesla, it is making electric powertrains standard in automobiles (medium term) and a global switch to renewable energy (long term). But if they succeed, Tesla will have to work much harder to wring any profits from its efforts.
Tesla's rivals in the car industry are numerous, fierce and well-funded. The electric vehicle market, at just 1% of global sales, remains niche. Tesla must master heavy manufacturing techniques refined by the car industry for more than a century while pushing transformative battery and digital technologies to their limits.
Ultimately, the idea that SpaceX's capabilities reflect Tesla's assumes it's not rocket science to make cars. But, as Tim Fernolz of Quartz has reported, in many ways it's harder. SpaceX's main challenge was building a cheaper re-useable rocket using technology first demonstrated in the 1990s. The rocket company had one job: reach orbit cheaply without blowing up— something it performed admirably over 18 launches in 2017. Thanks to deep-pocketed customers like NASA, SpaceX has been profitable since 2016 while only raising $2 billion in equity, according to Pitchbook.
If successful, SpaceX could dominate a massive market expected to hit $1.1 trillion by 2040, reports Barclays, against rivals with far more expensive, limited offerings. Tesla has raised more than $12.5 billion (debt and equity) and has never recorded a profitable year.
The dreams that drive Tesla
If Tesla was content manufacturing a few hundred thousand luxury electric cars, it could likely be counting its profits now. Its sights are set much higher: Tesla is working on the Tesla Semi truck, the Model Y crossover, a new Roadster and, within five years, a compact car. The company is expanding its solar panel and energy storage business, while building new Gigafactories in Europe and China on its way to "10 or 12" such facilities worldwide.
But Tesla will have to do this in a more hostile environment. Automakers' margins of 8% to 13% are a fraction of the 20% to 30% enjoyed by major tech players, according to McKinsey (pdf), and unlike the $100 million or so SpaceX receives for each US government launch. Barclays' financial analysts declared SpaceX's economics "superior" to Tesla.  As Musk likes to point out, every US car company except Ford and Tesla has declared bankruptcy. "It's very difficult to become a mass-manufacturing car company," Musk said at Tesla's annual shareholders meeting on June 5. "No one has succeeded in doing this in a very long time in the United States."
Confidence in Tesla hasn't seemed to falter, even if cracks are beginning to show. At this year's annual shareholder meeting, one person asked Musk if his trust in Tesla's timelines was misplaced after the Model 3 debacle. "So should I keep discounting things on Elon time or have you learned anything about this?" he asked. Musk took it in stride. "I'm typically optimistic about these things, but hopefully less optimistic over time," he replied. "Like it pretty much always happens but not exactly on the time frame."
Tesla's stock was up 10% the next day.