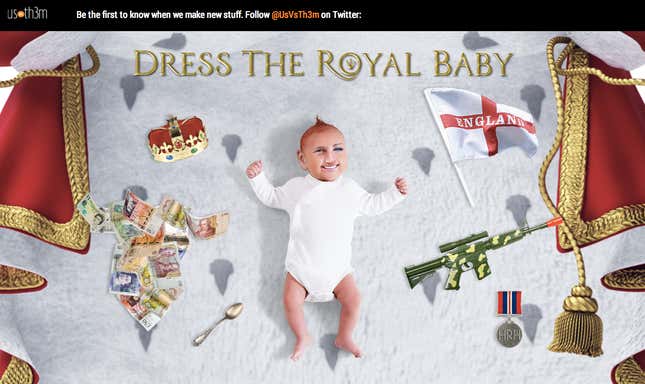 At the end of August, when a joint Anglo-American strike on Syria seemed inevitable, a British website posted an article headlined "The US Department of Defense isn't sure where Damascus is: statistical proof." It was based on an online survey the site had put up asking people to find Damascus on a map; 43% of users from the DoD (identified by their computers IP addresses) couldn't. The post was a massive hit.
The site, UsvsTh3m, is, like the American viral repository BuzzFeed, best known for GIFs and lists. Launched at the end of May, it has quickly gained a reputation for entertaining content; by September it had 1.1 million unique monthly visitors. Its proposition is simple. "The main original use case was 'I'm bored.' What can I do for ten minutes?" says Malcolm Coles of Trinity Mirror, which owns the site.
So far, so unremarkable. But its ownership is what makes UsvsTh3m interesting. Unlike BuzzFeed, which launched in 2006 as a scrappy start-up, UsvsTh3m is part of an old-media company—a publicly-listed corporate giant with £30 million in profit on revenues of £332 million in the first half of this year.
The case for cats (and sheep)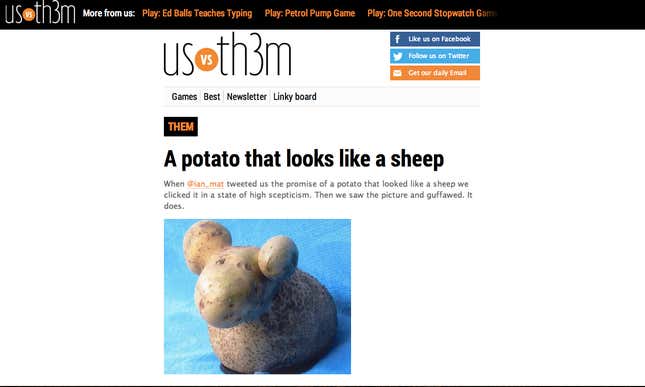 British publishers, like those in many countries, have had a tough dealing with the shift to digital. No newspaper paper can say its online strategy has been a resounding success (with the possible exception of the Daily Mail, owner of the most-trafficked news website in the world thanks to its "sidebar of shame"). Moreover, there are few bold experiments or start-ups. The new media that exist—Huffington Post and BuzzFeed among them—are local editions of American publications.
Trinity Mirror, whose biggest title is the left-leaning tabloid the Daily Mirror, is an unlikely disruptor. But Coles says UsvsTh3m is just one of the company's experiments. "There's probably not one answer to how do you get from here to a growing, high-revenue digital business, but maybe it's made up of a few medium and little things, and if UsvsTh3m can grow to a medium thing it'll help be the answer," says Coles.
UsvsTh3m plans to grow big—or at least medium-size—by picking a fight with the biggest opponent of all: the entire internet. "Our original concept was 'us' is the team and 'them' is the internet: Can we beat them? Can we make up content that is more funny or better?" says Rob Manuel, the site's editor.
Cats, sheep and hamsters from the internet provide the commodity clicks. The big hits have been interactives: Games such as "You can't do simple maths under pressure" and "Are you still down with the kids?", as well as that Damascus-finder. Also popular are what Manuel calls "toys," such as "Dress the Royal Baby" and "Ice Fail," a spoof of the New York Times' "Snowfall". Every afternoon the staff send out a newsletter with the verdict of who the winner was for the day. "The metric is what we think. It's arbitrary," says Manuel.
Quantifying quizzes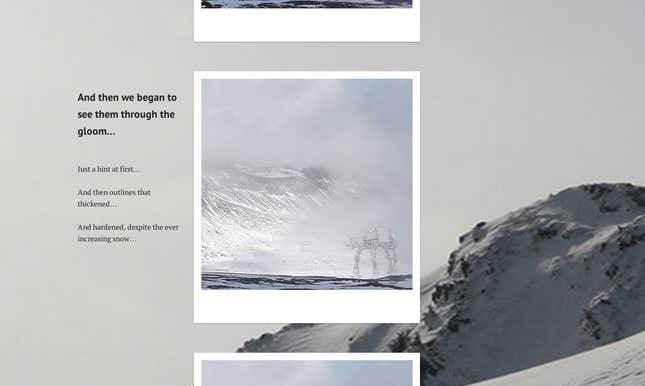 UsvsTh3m has no financial targets and barely any costs. The site runs on the free Tumblr platform and its staff use space in Trinity Mirror's Canary Wharf offices. The budget is the salaries of a handful of people.
Trinity Mirror did set traffic goals, all of which the site has exceeded. The plan is to continue growing the audience and to look for advertisers early next year who will provide sponsor content—that is, articles that are in tune with what the site publishes, but are marked as ads. (BuzzFeed follows a similar model, as does Quartz.)
UsvsTh3m has already made one sponsored toy, called the Petrol Pump Game, for a site that helps people find mechanics. It's silly and addictive, both which are also appropriate descriptions for BuzzFeed's Listiclock. If it works, expect to see a lot more time-wasting experiments originating from Britain.