If your country did not qualify for the 2018 World Cup (hi America!) and you have room in your heart for another national soccer team, you should root for Iceland.
At first glance, it might seem boneheaded. Iceland's odds to win the trophy are 250 to one. The country has no professional soccer clubs. Russia 2018 is the team's first ever World Cup appearance and it is, by far, the smallest team to ever qualify for the World Cup. It also has to play against Croatia, Nigeria and Argentina—all far more experienced at the World Cup.
But Iceland makes up for what it lacks in prestigious soccer heritage with a great underdog story of improbable success:
A game plan for success
How did it achieve this? Despite being a soccer-mad country with 10% of men and 4.4% of women playing—the second highest rate in Europe, Iceland has faced major obstacles.
The first problem for the tiny nation of only 330,000 was the size of its soccer talent pool. Being an isolated European island doesn't help, making Iceland unlikely to benefit from a talented migrant population, as some national soccer teams have. But Iceland has focused on solving its problems by making the most of what (and who) it has. In the early 2000s, the Football Association of Iceland (KSÍ) began investing in making it cheaper and easier for anyone interested to take coaching courses and licenses by UEFA, Europe's soccer governing body.
Iceland now has over 600 qualified coaches. Put another way, Iceland has one qualified coach per 550 people. (In comparison, England has one per 11,000.) More than half of its coaches hold UEFA B licenses—the minimum requirement to coach players older than 10 in Iceland. It's a far cry from 2003, when no Icelandic coach had completed their UEFA B license. Now, pretty much all of Iceland's soccer talent is trained and developed by expert coaches.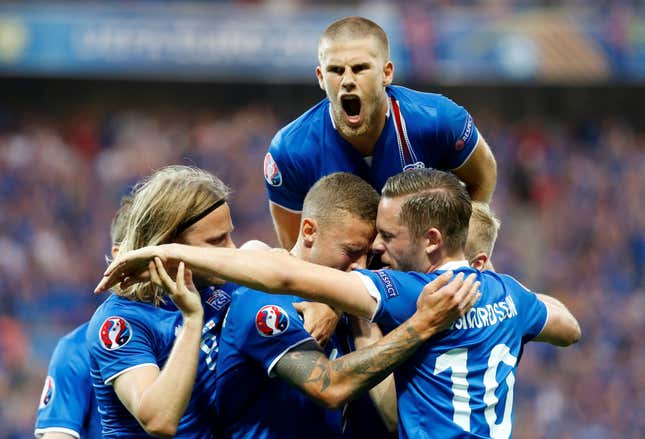 Additionally, over the past 15 years, KSÍ has invested in building over 150 miniature indoor pitches across the country. The indoor pitches, with under-soil heating, are crucial because Iceland's tough weather conditions and long winters mean playing outdoor soccer is difficult for much of the year. And most of these indoor pitches were built next to schools, making it easier for kids to practice.
Iceland's nurturing of young talent is paying off. Since 2010, a generation of "indoor kids" have shot the country into the soccer limelight. Iceland qualified for the 2011 European under-21 championship—its first ever international soccer competition, and narrowly missed out on qualifying for the 2014 World Cup after a playoffs defeat. It qualified for the 2016 European championship and famously beat former world champions England to reach the quarter-finals. Now, with eight members of the 2011 under-21 team in the squad, Iceland will play in its first ever World Cup.
If you're not yet sold, three more charming facts about Icelandic soccer
Iceland's national team coach discusses his match tactics with fans at a bar before every home game and they reportedly never leak the strategy to the press or social media.
The longer Iceland stays in the competition, the more epic Viking "thunder clap" post-match celebrations between the the players and fans the world gets to see.
And, finally, who doesn't want to hear an Icelandic commentator go crazy on live television while celebrating a last-minute goal?