In one ad, a nervous woman in a cafe drinks a few glasses of a carbonated beverage and works up the courage to confess her love to a man. In another, after sipping on a drink, a woman jumps on a male volleyball player and plants kisses on him—prompting a crowd of other women to shout, "You're so brave, we envy you!"
Now, China's media regulators have ordered broadcasters to stop showing these ads, citing (link in Chinese) they "misguide the development of young people." The crackdown, and the ads themselves, show how Chinese society is awkwardly balancing progressive attitudes about gender alongside traditional conservative values—and plain old sexism.
The ads are for Taiwan-headquartered snacks giant Want Want's sparkly malt beverage called Sawow, which is 3.5% alcohol by volume, and available in flavors like peach and lychee. They're sold in pink bottles, some of which have slogans printed on them that read "I need courage." At a promotional event in March, the company's brand manager described the drink as "a new cocktail specifically for the female market."
Regulators also banned Want Want's ads for a non-alcoholic, flavored milk drink called O Pao depicting budding young romance in its spots. Want Want didn't immediately reply to a request for comment.
Taken as a whole, the ads reflect complicated perceptions about female sexuality in China.
On the one hand, several of the ads show women taking a proactive role in their sex lives, a reflection of increasingly open attitudes about sex in Chinese society. More and more Chinese people have begun having sex before marriage since the '90s—though limited sex education in schools is a sign of the continued discomfort around teenage sexuality.
Elizabeth LaCouture, who teaches gender studies at the University of Hong Kong, says that the ads link alcohol consumption with forming relationships, which is especially problematic given how they appear to target underage consumers.
"Before we celebrate gender liberation, we should think about how the alcohol functions in the advertisements," she says. "In the end, the product and the advertisements suggest the need to teach and discuss responsible alcohol consumption in Chinese secondary schools and on Chinese university campuses, and how to have healthy dating relationships without alcohol."
Some of the Sawow ads, such as the woman in the cafe making a move (video in Chinese) or the one involving the volleyball player (video in Chinese), depict shy women becoming more sexually confident. In one of the O Pao ads showing young couples being affectionate, one woman lifts up her boyfriend playfully.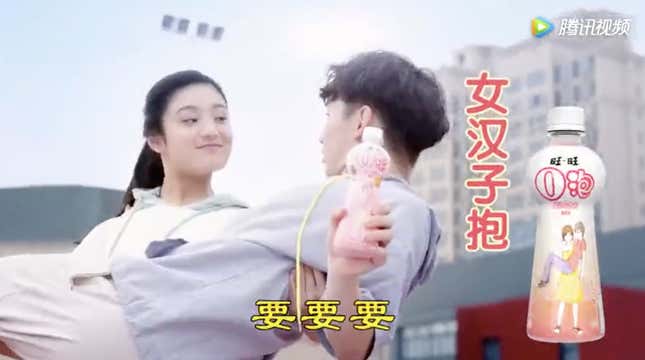 But other ads featuring women losing their inhibitions as they drink appear uncomfortably out of touch in light of the #MeToo moment, which has steered public attention to women's experiences of harassment and men's understanding (and misunderstanding) of consent.
For example, a heartbroken woman in one ad (video in Chinese) is seen sipping Sawow alone on the couch and pretending to flirt with the male model on a magazine cover as she become increasingly tipsy.
In another innuendo-filled ad (video in Chinese), two women—one shy and one confident—are depicted sitting at a bar. "Is this your first time?" the confident woman asks, and the other woman nods. "The first time is very important. Choose the right one, and life is a little more joyful. Choose the wrong one, and your life is missing a little something," she continues. After drinking Sawow, the shy woman loses her inhibitions on the dance floor.