As the dream of regular commercial space travel comes closer to reality, Space Waste Lab, a new design lab in the Netherlands, is already investigating what to do with the debris generated from extraterrestrial traffic.
There's a lot of junk floating in space already. The European Space Agency estimates that after six decades of space exploration, some 29,0000 objects bigger than 10 cm—from satellite parts and stray cameras to rocket boosters and even an astronaut's glove—orbit the earth and nearby planets; the moon is crusted with 20 tons of it. Each floating object, circling the earth at 36,000 km/h, poses a threat to satellites and spacecrafts. Even a tiny particle whizzing at incredible speeds can cause significant damage. NASA, for instance, has had to replace windows of the International Space Station that got dinged by a flake of paint.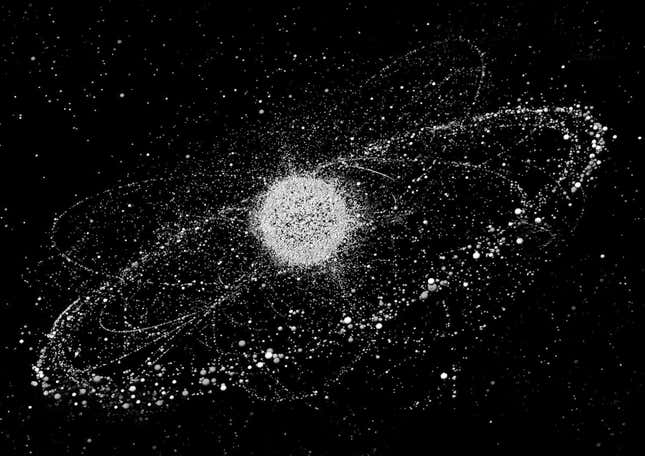 Wayward space debris also poses an immediate threat to us on Earth. Orbital flotsam and jetsam threatens the 2,000 communications satellites used by private companies and governments for for TV, phone, radio, internet, and military operations. "No more internet, no more online banking, no more Facebook…" warns designer Daan Roosegaarde, whose studio is working with the European Space Agency, NASA, and the Kunstlinie Almere Flevoland cultural center in Almere, the Netherlands, where the lab is located.
Roosegaarde tells Quartz that his studio's success with its Smog Free Tower project has inspired the firm to dream bigger. Over the last few years, Studio Roosegaarde has installed several building-size air purifiers around the world, turning toxic black carbon into rings and cufflinks as a kind of memento mori. The Space Waste Lab aspires to translate Smog Free Tower's premise to a galactic level, turning pernicious elements into beautiful objects, while cleaning the environment in the process. Space debris, Roosegaarde says, is "the smog of the universe."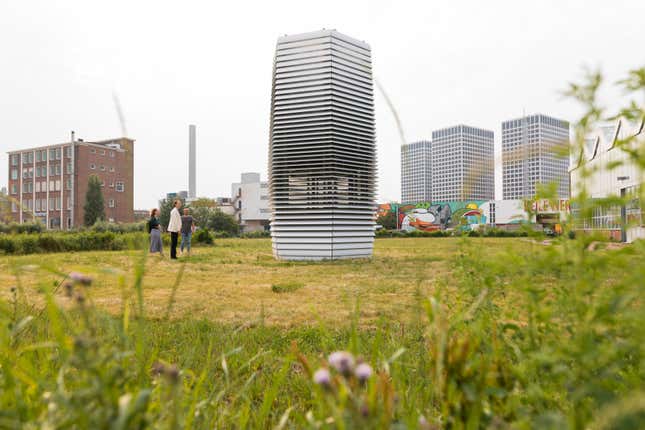 Roosegaarde acknowledges the years' worth of research done by the ESA for its Clean Space initiative. "What we can do as designers is add a new perspective on the topic—perhaps saying that its not waste but an ingredient from something new," he says. "I'm very interested in solving it not just from a technical point of view, but perhaps it can also create a new sense of poetry."
Later this year, Space Waste Lab will unveil its first project: an immersive outdoor light projection to demonstrate how enormous the problem is.  It's also planning a museum exhibit showcasing real debris collected from space and an education symposium, hoping to attract new partners, experts, and supporters to the issue. Roosegaarde also says the lab is working on creating an impactful project in time for the World Expo Floriade, the world's largest horticulture and green-thinking gathering, to be held in Almere in 2022.