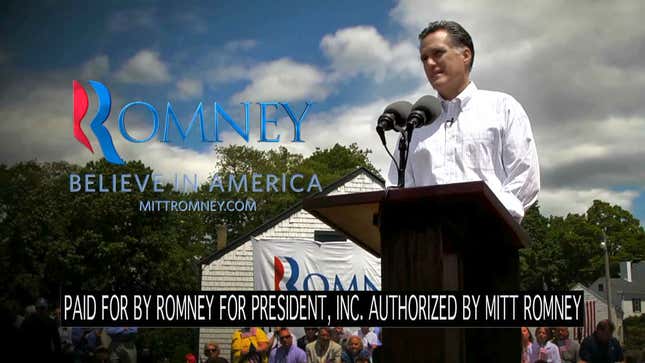 Mitt Romney may have talked about the Middle East yesterday in what was billed (and panned) as a major foreign policy address, but ad spending by both candidates' camps shows that global affairs are still low on the list of key campaign topics.
Fewer than 10% of ads aired in the US presidential race to date have made reference to international issues—and those that do look abroad reveal a worldview that's largely limited to Chinese trade, Iraq, Afghanistan and Israel, according to a tally by Elizabeth Wilner, a vice-president at the media research group Kantar Media. Wilner argues that disparity is in fact even greater when discounting China-trade-related ads, which she says are fundamentally about US economic policy. Without them, only 3.3% of spots have referred to global issues.
Clearly, both campaigns' inward focus reflects polls that consistently show American voters don't care much about the rest of the world—particularly not beyond the country's military engagements. But, it's a bit of a self-fulfilling prophecy, too: Even in the wake of the global financial crisis and lingering euro zone woes, most polls don't ask respondents specific questions about the global economy. And without that data, campaigns and candidates have little political reason to address it.
"People pay more attention to global economic issues when they feel they can afford it, when things are okay at home," Wilner says. "The economic situation around the world could have some pretty devastating effects, just like war could, but people don't see the connections."
In all, 309 different presidential ads aired a combined 797,553 times between April 10 and Oct. 4, making 1.1 million references to jobs, taxes and fiscal policy, compared with just 75,292 to global affairs, Kantar's count found. Of those global references, nearly half were Republican-sponsored attacks related to Chinese trade practices and nearly a third were Obama-backed references to the wars in Afghanistan and Iraq. Pro-Israel groups critical of the administration sponsored most of the others.
The two remaining presidential debates on Oct. 16 and Oct. 22 are due to focus more on foreign policy, though, suggesting that interest—and ad spend—may soon get more global, Columbia Journalism Review noted in a post highlighting Kantar's research.